free newsletter!

tell a friend!

contests

software
reviews
bestseller list
price survey
what's new
product support
search

educational tools
ask a scientist
math worksheets
vocabulary builders
hangman
iPhone/iPad apps
logic games
brain food

educational insights

feature articles

marketplace
iPhone/iPad apps
reading corner
movie corner

SuperKids home
about SuperKids
advertise!
humor
links
help


* * *

Promotions




* * *



all reviews > > > girls software
Barbie Digital Makeover

Mattel

Ages 6 and up
Rating Scale
5 = great, 1 = poor
Educational Value
3.0
Kid Appeal
4.5
Ease of Use
4.0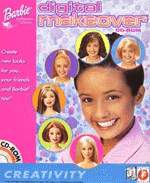 System Requirements

PC Price Survey

Product Support

You guessed it, this is yet another virtual makeover program for girls (see Clueless, Cosmopolitan Digital Makeover, Disney's Princess Fashion Boutique). As with other makeover programs, Barbie Digital Makeover lets girls choose models to make-up, dress, bedeck and photograph.

Girls have the option of using an existing model, Barbie or one her ethnically diverse friends, or create personalized models using photos of themselves or friends. Photos taken with the Barbie Digital Camera are instantly available. Other images, if saved as jpeg or bitmap files, can also be imported and used with this program. Kids must size and align the face. They also choose a head shape, adjust the lip and eye outlines for makeup application, and select hair and skin colors to best match those of the photo model. This done, it is truly amazing how well imported photos work with the program. Barbie's clothes, jewelry and make-up look almost realistic on the photo model, who not surprisingly begins to resemble the animated Barbie.

Program's of this sort are amazingly popular, but is it appropriate for our daughters to be whiling away the hours with this endeavor? Does it help prepare girls for futures in technology, or does it teach them to care only about how they look?

The answer is, most likely, somewhere in the middle. The simple fact is that many girls like to experiment with fashion and makeup. They imagine themselves transformed into modern day princesses. One can only hope that instead of picturing themselves as simply adorning the arms of tech giants, they see themselves as tech giants.

Mattel Media calls this creativity software. As such, it does a nice job. Girls are presented innumerable options for the development and decoration of their models. They can apply makeup, either from a preselected makeup kit or one that they design and compile themselves; style, cut, lengthen, color and streak hair; and add facial tattoos, jewelry and hair adornments. They then choose the background, clothing, frame, and friends to appear in their photo. Finally they virtually snap their photos and add them to their scrapbooks. All told, hours of entertainment is enjoyed.

Despite the fact that the virtual makeover idea is not unique, this program is very enjoyable and got rave reviews from our testers. "I had a great time using this program with my daughter," commented one mother, who went on to tell us that ". . .adapting personal photos is definitely the most appealing part of the program."

Barbie Digital Makeover installs without difficulty. It requires DirectX 6.1, which installs on command from the CD. Users can choose from two installation options, the Minimal install requires only 70 MB of hard disk space, and is recommended for users with fast CD-ROM drives. The Maximum install requires 257 MB hard disk space, and is recommended for those with slower CD-ROM drives. Unfortunately, computers with slower CD-ROM drives tend to also have smaller hard drives, so having two options is not quite as wonderful as one might imagine.

The program itself is fairly intuitive, however there were a few techniques that stumped our testers until they consulted the manual. In particular, importing photos from floppy disks, CDs, or somewhere on the computer hard drive was at first a mystery. To import a photo from a source other than the Barbie Digital Camera, users must drag or copy and paste the desired jpeg or bitmap file into the "My Photos" folder that the program places on the user's desktop, or place them in the "Export" folder, found in the following path: Program Files/Mattel Media/Barbie Digital Makeover/Photos/Export.

A few hints: don't import photos of smiling models -- they get lipstick on their teeth; spend some time adjusting the imported image fit so that it fits the given window -- the results are quite good; and finally, makeover everyone in the family -- boys and dads make hilarious models!

Best for... / Bottom-Line


Girls interested in makeup and fashion, and those with artistic flair will enjoy this program. Middle school and older girls might find it too juvenile (but they'll secretly play it).
See SuperKids' comparisons with other girls software titles, and the Buyers Guide for current market prices of this PC-only title.
PC: Microsoft(R) Windows(R) 95 and Windows(R) 98, Pentium(R) 166 MHz or faster processor, Minimum of 70MB of free disk space, 32 MB of RAM, Color monitor with at least 640x480 resolution and 16-bit colors, Quad-speed (4x) CD-ROM drive or faster, 16-bit Sound Blaster(R) or 100% compatible sound card and speakers, Ink jet or Laser printer to output images(optional).

Reviewed on:

Pentium 266 with 64MB and 12XCD
return to top of page
---


Questions or comments regarding this site? webmaster@superkids.com
Copyright © 1998-2023 Knowledge Share LLC. All rights reserved. Privacy Policy