free newsletter!

tell a friend!

contests

software
reviews
bestseller list
price survey
what's new
product support
search

educational tools
ask a scientist
math worksheets
vocabulary builders
hangman
iPhone/iPad apps
logic games
brain food

educational insights

feature articles

marketplace
iPhone/iPad apps
reading corner
movie corner

SuperKids home
about SuperKids
advertise!
humor
links
help


* * *

Promotions




* * *



all reviews > > > girls software
Disney's Princess Fashion Boutique

Disney Interactive

Ages 5 and up
Rating Scale
5 = great, 1 = poor
Educational Value
3.5
Kid Appeal
4.8
Ease of Use
4.0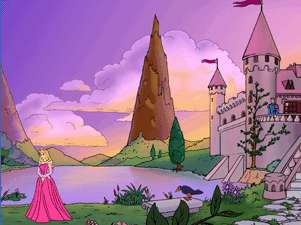 System Requirements

PC / Mac Price Survey

Product Support

What young girl doesn't dream of being the princess in her favorite fairy tale? Princesses are beautiful, grown-up, splendidly clad, and they always get their men. Now Disney Interactive offers girls the chance to 'become' their favorite Disney princesses, to virtually step into their clothes and explore their magical worlds.

To begin the adventure, the user chooses a Disney Princess Guide: Sleeping Beauty, Cinderella, or Snow White. Once this selection has been made, a trip through the magic mirror takes the user to a faraway land, where she can begin to create her own personal princess, either by combining selected features, or importing a photo of herself.

Newly created princesses must, of course, be dressed and coiffed, and the "Princess Dressing Room" is the place to pursue this endeavor. Girls can mix and match skirts, bodices, sleeves, bows and gloves, and color and texturize each of these to create seemingly endless wardrobes. Completed outfits can be saved, and used in the "Star of the Story" section of the program.

Functioning much like a paint program, the "Star of the Story" section allows girls to create their own, personalized fairy tales with stickers, animations, backgrounds, sounds, music and text. These fairy tales can be printed or saved to the user's desktop for emailing or posting to the web.

Finally, each of the Disney Princesses has her own Enchanted World that users can visit and explore. These worlds contain clickable animations, and special suprises that can be collected and used once back in the Dressing Room.

This program does not drill classroom skills. It does, however, encourage girls to use imagination and creativity as they design and dress their princesses, and decorate their "Star of the Story" scenes. Many of the art tools offered are similar to those found in more sophisticated art programs. In addition, Princess Fashion Boutique gives girls the opportunity to author their own polished-looking fairy tales to print and share with others.

Without exception, this program immediately became a favorite of our girl testers. Though similar to others of the 'fashion' and 'makeover' genre -- the princess theme makes it unique, and extremely appealing to young users. Familiar Disney characters add to the attraction, making Princess Fashion Boutique a top choice for young females. "My daughter plays with it endlessly," was one of our parent tester's comments, "she loves to create and print new gowns."

The inclusion of three unique Princess Worlds makes this program highly replayable. Each World offers a large variety of creativity options. In addition, according to the product creators, new princess dresses and accessories will periodically be made available on the Disney website for the user to download.

This program installs without difficulty.

Our testers reported that on-screen instructions are not always clear and available, therefore we recommend that users consult the Program Manual for full enjoyment of the product.

Importing photos to this program is a simple process, especially for experienced Windows users. We advise taking note of where scanned photos are being filed (i.e., are they saved on the Desktop, C: drive, in a photo editing software folder, etc.) for easy retrieval from within the Princess program.

Best for... / Bottom-Line


Girls who like to dress-up and pretend to be princesses will are sure to enjoy this program from Disney Interactive.
See SuperKids' comparisons with other girls software titles, and the Buyers Guide for current market prices of this PC-only title.
PC: Windows 95/98, Pentium class processor, 166 MHz or faster cpu, 50 MB hard drive space, 32 MB RAM, 16-bit DirectX-compatible color video display, Quad-speed (4X) or faster CD-ROM, 16-bit DirectX-compatible sound card.

Reviewed on:

Pentium266 with 64MB and 12XCD
return to top of page
---


Questions or comments regarding this site? webmaster@superkids.com
Copyright © 1998-2023 Knowledge Share LLC. All rights reserved. Privacy Policy