free newsletter!

tell a friend!

contests

software
reviews
bestseller list
price survey
what's new
product support
search

educational tools
ask a scientist
math worksheets
vocabulary builders
hangman
iPhone/iPad apps
logic games
brain food

educational insights

feature articles

marketplace
iPhone/iPad apps
reading corner
movie corner

SuperKids home
about SuperKids
advertise!
humor
links
help


* * *

Promotions




* * *



all reviews > > > girls software and digital cameras
Barbie Photo Designer Digital Camera & CD-ROM

Mattel Media

Ages 6 and up
Rating Scale
5 = great, 1 = poor
Educational Value
4.0
Kid Appeal
5.0
Ease of Use
4.0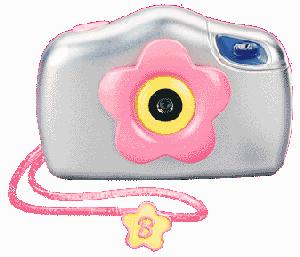 System Requirements

PC / Mac Price Survey

Product Support
At last, the budding photographer can point and shoot to her hearts content, and then point and click to personalize and perfect her photos. This program is ideal for parents who want to encourage creativity but are aghast at the cost of developing a roll of film that may yield very few decent photos. The camera needs no film, and requires no developing. Best of all, Barbie Photo Designer includes the hardware and software needed to upload and edit photos taken with the camera.
Users can take photos inside or out and of all their favorite subjects (including, thanks to a timer option, themselves). If the camera is used alone, six shots can be taken at one time. If it is connected to the computer, there is no limit to the number of scenes that can be captured. Clicking on the camera icon allows the child to upload her pictures to the computer clipboard, where they automatically appear on the computer screen. Bad shots can be trashed, and successful attempts saved. But taking pictures is only half the fun.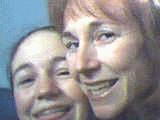 There are limits, however, to what can be achieved. The camera's resolution is 160x120 pixels, a resolution that's OK for small photos for kids, but unsuitable for significant enlargement. The photo to the right is actual size, and un-enhanced. (Clicking on the photo will show an enlargement to 640 x 480, and the resulting graininess that is a function of the camera's low resolution.)

Real computer tools allow girls to crop, rotate, touch-up and otherwise improve their photos. They can enlarge or diminish them with a simple click. Password protected scrapbook pages hold completed masterpieces, adorned with stickers, surrounded by frames, and made into personalized collages. Flip books exhibit select photos or, if the shots are taken in rapid succession, turn them into a simple motion picture. Photos can be printed in a number of formats, on stickers, postcards or regular paper. They can even be saved as jpg or bmp files and added to WebPages or e-mailed to friends and relatives.

This program is extremely valuable as an introduction to digital photography. Mastery of its editing tools will transfer to larger, more advanced photo-editing programs. It is also a great outlet for a child's creative energy. It lets girls pursue their interest in dolls and fashion in a way that stimulates their intellect and imagination.

Kids love to take pictures--of themselves, their pets, their friends and their families. With this program there is no need to limit them, every scene that catches the fancy can be captured and viewed, almost instantly. "I never get a chance to use my computer myself anymore," was one mom tester's good natured lament, "(my daughter) especially likes using this program with her friends--it keeps them occupied for hours!"

Installation in straightforward in Windows 95.

Photos taken with the digital camera are not of the same quality as those taken with 35mm cameras and developed in the traditional manner. They are grainy, difficult to focus, and care must be taken to ensure even lighting. Printing the photos was initially disappointing for some of our testers. They discovered, however that reducing the photo's size improved its quality. E-mailing was also a tricky task for our young photographers. Photos are exported as jpg or bmp files and attached to outgoing messages. This requires the user to specify location (C:/Program Files/Mattel Media/Barbie(R)_Photo_Designer/export/Photo*.jpg).

Best for... / Bottom-Line


With this fantastic program from Mattel Media, girls can experiment with photography, photo editing, layout, design and more!
See SuperKids' comparisons with other girls software titles, as well as SuperKids' reviews of similar inexpensive digital cameras, and the Buyers Guide for current market prices of this PC-only program
PC: Windows 95, Multimedia PC Pentium 90 or better, 13.5 MB hard drive space, 16 MB RAM, Color monitor with 256 color graphic capability, Video card capable of 16-bit graphics, Quad-speed or faster CD-ROM, 16-bit Sound Blaster or 100% compatible sound card and speakers, Available serial (com) port for connection. NOTE: A 9-pin (D89) serial port connector is included. A 25-pin connector (DB25) serial port adapter may be required for users with a 25-pin serial port.

Reviewed on:

Pentium166 with 24MB and 12XCD
return to top of page
---


Questions or comments regarding this site? webmaster@superkids.com
Copyright © 1998-2023 Knowledge Share LLC. All rights reserved. Privacy Policy