free newsletter!

tell a friend!

contests

software
reviews
bestseller list
price survey
what's new
product support
search

educational tools
ask a scientist
math worksheets
vocabulary builders
hangman
iPhone/iPad apps
logic games
brain food

educational insights

feature articles

marketplace
iPhone/iPad apps
reading corner
movie corner

SuperKids home
about SuperKids
advertise!
humor
links
help


* * *

Promotions




* * *



all reviews > > > girls software
Cosmopolitan Virtual Makeover: The Collection

Segasoft

Ages 12 and up
Rating Scale
5 = great, 1 = poor
Educational Value
3.0
Kid Appeal
4.0
Ease of Use
4.0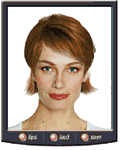 System Requirements

PC / Mac Price Survey

Product Support

As any make-up professional will attest, the face is a canvas. With the right tools and skill, it can be changed in almost infinite ways. Likewise, a new hairstyle and/or color can completely alter a person's appearance. Cosmopolitan Virtual Makeover: The Collection, and its counterpart for "Essence" magazine readers: Essence Virtual Makeover, bring the 'makeovers' popularized by beauty magazines to the home computer. Women and men who yearn to see themselves with different hair or eye color can test the effects in a non-threatening manner. What's more, they can have fun at the same time.

Users begin by selecting preinstalled, model faces to coif, beautify and adorn, or by importing personal photos. Digital camera images, or scanned photos taken with a 35mm camera are recommended. An additional list of photo-taking guidelines helps users achieve more realistic makeover results.

Once loaded, photos must be aligned to fit into the Virtual Makeover template. This includes positioning (and possibly resizing) the head, ears and eyes. This accomplished, the face becomes a palette to be filled with (seemingly) endless combinations of blush, eyeshadow, lipstick and liner, and foundation (actual shades that are tracked by the program for optimum consumer availability). Features can even be resized (the effects of collagen injections?) to suit the user. Hairstyles and hair colors abound, and various highlights can be skillfully applied with thin or thick paintbrushes. Eyecolor is adjusted using virtual contact lenses, brows are plucked and eyewear added when needed. Final adornment may include a jaunty hat or dreamlike bridal veil.

In addition to the basic "virtual makeover," the program includes a 'tips' section with make-up application how-tos and tips, and a 'slide-show' section for viewing saved makeovers. A web site at www.virtualmakeover.com includes periodic downloads, and a "beauty zone" with weekly tips, makeover quizzes, an advice column, makeovers and more.

Granted, this software is far from the traditional definition of educational -- unless, of course, the user is planning to become a cosmetologist. Its educational component lies solely in its appeal to the female teen audience, a group whose computer interest is typically on the wane. This program demonstrates that the computer is a useful tool, and one that is accessed in almost every aspect of modern life -- even fashion.

SuperKids' teen testers were enthusiastic about this program from start to finish. They had fun with the program, and were excited about the ease of importation of personal photos. "With other makeover programs I've used my photos and the program's hair or accessories don't really work together. Virtual Makeover makes more realistic looking makeovers than most!" was one teen reviewer's comment. "It's fun to change your own look," added another, "but I also like experimenting with make-up on the models' faces."

Teen testers also found the 'tips' section informative and useful.

Installation is simple and trouble-free. Two installation options exist, a full install (633 MB), which copies the complete set of program files to the user's computer, or the CD install (9 MB), a slower, but less invasive mode of use.

The program itself is quite easy to navigate. Our testers were dismayed, however, that the makeup tools lacked a sponge or eraser for simple touch-ups. Instead, if a misapplication is made, the only way to correct it is to clear the face of all makeup. This proved frustrating in many cases.

Best for... / Bottom-Line


Teen girls, especially those who like to experiment with make-up and have a penchant for beauty magazines, will enjoy this simple program. Those looking for an educational product, however, should look elsewhere.
See SuperKids' comparisons with other girls software titles, and the Buyers Guide for current market prices of this PC-only program.
PC: Windows 95 and above, 90 MHz or faster cpu, 10 MB hard drive space, 16 MB RAM, 16-bit high color display, Double-speed or faster CD-ROM, 3-bit Sound Blaster or compatible (16-bit recommended).

Reviewed on:

Pentium166 with 24MB and 12XCD
return to top of page
---


Questions or comments regarding this site? webmaster@superkids.com
Copyright © 1998-2023 Knowledge Share LLC. All rights reserved. Privacy Policy