free newsletter!

tell a friend!

contests

software
reviews
bestseller list
price survey
what's new
product support
search

educational tools
ask a scientist
math worksheets
vocabulary builders
hangman
iPhone/iPad apps
logic games
brain food

educational insights

feature articles

marketplace
iPhone/iPad apps
reading corner
movie corner

SuperKids home
about SuperKids
advertise!
humor
links
help


* * *

Promotions




* * *



all reviews > > > baby software
Sesame Street Baby & Me

Creative Wonders

Ages 1 to 3
Rating Scale
5 = great, 1 = poor
Educational Value
4.0
Kid Appeal
4.0
Ease of Use
4.5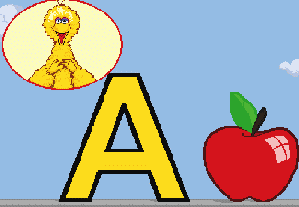 System Requirements

PC / Mac Price Survey

Product Support

Baby & Me offers the 1-3 year-old a variety of amusing activities that mirror those s/he might experience in a play-school setting. Songs, movement games, animal sounds, letters, numbers, shapes and more are presented by favorite Sesame Street characters.

Unlike other programs intended for babies, Baby & Me attempts to teach the child to use the mouse and keyboard via two entirely separate groups of activities. Keyboard activities provide animation and surprises each time baby hits a keyboard key. Mouse activities are similar to magic-pen coloring books. As baby moves the mouse around, the screen changes in a fluid, preordained manner, coloring objects and/or uncovering surprises.

Since this program is intended as a caregiver/child joint endeavor, adults control movement from activity to activity using the opposite tool from the one being taught to baby.

Also included with this program is a second disk, the Sesame Street Greatest Hits Sampler, which contains one activity from each of the following likable programs: Sesame Street Toddler, Elmo's Preschool, Sesame Street Kindergarten, Elmo's Reading, and Elmo's Art Workshop.

Baby & Me adapts favorite early learning activities for the computer, establishing it as an integral part of baby's ever expanding world. "Do What I Do Songs" include Pat-a-cake, If You're Happy and You Know It, Where is Thumbkin, and Head, Shoulders, Knees and Toes. "What's That" features favorite items (like a dump truck and a swing set) that 'do their thing' when baby presses a key. In "Do What I Do Games," Elmo and Baby Natasha perform baby's preferred acts: blowing kisses, clapping hands, waving hi and bye-bye and more. "Elmo's Goofy Gallery" offers a collection of cute photos that baby can flip through with the tap of a key. Personal photos can be added to the collection. "Silly Songs" includes best liked tunes accompanied by graphics that baby can animate and adapt, and "Letters, Shapes and Numbers" introduces important concepts in an enjoyable fashion.

Mouse activities include tending to a yard through the four different seasons (raking leaves, shoveling snow, watering and mowing) by moving the mouse around and watching the screen change accordingly, unwrapping presents by moving the mouse until the 'wrapping paper' is removed, and coloring pictures that change in surprising ways.

Sesame Street characters, pleasant graphics and favorite games and activities make this a nice introductory computer program for babies and young toddlers. Our parent testers found that familiar activities (pat-a-cake, peek-a-boo, How big am I?) were the most successful at attracting and holding babies' attention. "Baby & Me just gives me one more way to interact with and stimulate my baby," was one mother's comment. "I don't ever want her to feel intimidated by computers."

Baby & Me installs without difficulty. It requires installation of "WinG" on Windows 95/98. The installer checks for this file and installs it if necessary.

Program navigation is straightforward. Adding scanned photos to the program's Photo Gallery is a simple process that can be accessed through the 'Photo Creator' option on the launcher screen.

Best for... / Bottom-Line


Parents who want to offer their babies a first computer experience will not be disappointed by this pleasant program from The Children's Television Workshop, a trusted name in children's early education.
See SuperKids' comparisons with other baby software titles, and the Buyers Guide for current market prices of the PC and the Mac versions.
PC: Windows 95/98, 486/66 MHz or faster cpu, 5 MB hard drive space, 8 MB RAM (16 MB recommended), 256-color display with a 640x 480 resolution (16-bit color recommended), Double-speed or faster CD-ROM, Windows compatible MIDI sound card.

Mac: 7.5 or higher, Power PC or faster cpu, 16 MB RAM, 256-color display with a 640 x 480 resolution, Double-speed or faster CD-ROM, QuickTime 2.5 or above (not included, if needed to install, contact Apple Computer)

Reviewed on:

PowerMac 6400/200 with 32MB and 8XCD
Pentium166 with 24MB and 12XCD
return to top of page
---


Questions or comments regarding this site? webmaster@superkids.com
Copyright © 1998-2023 Knowledge Share LLC. All rights reserved. Privacy Policy