free newsletter!

tell a friend!

contests

software
reviews
bestseller list
price survey
what's new
product support
search

educational tools
ask a scientist
math worksheets
vocabulary builders
hangman
iPhone/iPad apps
logic games
brain food

educational insights

feature articles

marketplace
iPhone/iPad apps
reading corner
movie corner

SuperKids home
about SuperKids
advertise!
humor
links
help


* * *

Promotions




* * *



all reviews > > > reading software
Elmo's Reading Preschool & Kindergarten

Creative Wonders

Ages 3 to 6
Rating Scale
5 = great, 1 = poor
Educational Value
4.5
Kid Appeal
5.0
Ease of Use
4.6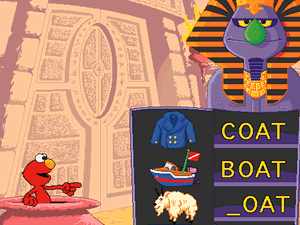 System Requirements

PC / Mac Price Survey

Product Support

Who better to inspire a young child to learn to read than an adorable, furry friend? Perhaps a cast of furry friends, all winsome, witty, and wonderfully loveable and all not only present, but at their best in this two disk set.

In Disk 1, "Elmo's Get Set to Read," the user chooses from among six books, each featuring a different ready-to-read activity. In addition to Elmo, the program's cheerleader and guide, other familiar Muppet characters make the books sparkle with clever charm. Activities include linking puzzle pieces to create words, beatnik-like rhyming sessions, matching words to corresponding letter sounds, and cooking up words with 'Chef Cookie'. Three levels of diffiuclty adjust automatically to continually challenge the blossoming reader.

The second disk contains the interactive story "Elmo Through the Looking-Glass." In this parody of the classic Lewis Carroll tale, the user joins Elmo as he travels through a strange land searching for the little red monster he encounters in his bedroom mirror. In addition to read-a-long text, the story's pages include delightful clickables as well as many simple learning adventures. Clicking more than once on a story character elicits a number of different responses.

Elmo's Reading helps prepare kids to learn to read in a number of ways. In addition to inspiring a love of reading, the activities build phonics and whole language skills, reinforce letter and letter-sound recognition, increase vocabulary, rhyming and early sentence-structure skills, and introduce word-building and spelling concepts. As one parent put it, "The activities are like those found in the workbooks I loved as a child."

Our young testers agree, Elmo tickles everyone's fancy! Kids especially loved the interactive story, returning to scenes time and again to be entertained by Elmo and his friends. "My daughter loves the tea party scene," was one mother's comment. "(the clickables) remind me of the Chatty Cathy dolls I once played with -- you click on them again and again, never knowing what response you'll get!"

The disk 1 activity "Zoom Me Up Up Up" also garnered major applause. Martian Monsters searching for items to take away in their spaceship elicit giggles galore as they vehemently shake their heads and mutter "yup, yup, yup!"

Elmo's Reading installs easily on Windows 95. Parent's are encouraged to spend a few minutes reading the Parent's Guide before using the program. It contains a brief printable page for each disk, filled with helpful information and tips.

Disk 2 provides for three different modes of play. The 'Read to Me' option lets the child sit back and listen to the story as it is read without interruption. 'Read and Play' introduces the interactive aspects of the story, allowing the child to take an active part in the manner in which the story unfolds. Finally, the 'Index' takes the user directly to a favorite story page for additional exploration.

Best for... / Bottom-Line


Sesame Street aficionados will especially love this clever program that offers plenty to stimulate the young reader.
See SuperKids' comparisons with other reading software titles, and the Buyers Guide for current market prices of the PC and Mac versions.
PC: Windows 98, 95, Windows 3.1, 486/33 MHz or faster CPU, 8 MB RAM, Double-speed or faster CD-ROM, Sound card

Mac: System 7.1 or higher, 68040 or faster processor or Power PC, 8 MB RAM, Double-speed or faster CD-ROM

Reviewed on:

PowerMac 6400/200 with 32MB and 8XCD
Pentium166 with 24MB and 12XCD
return to top of page
---


Questions or comments regarding this site? webmaster@superkids.com
Copyright © 1998-2023 Knowledge Share LLC. All rights reserved. Privacy Policy