free newsletter!

tell a friend!

contests

software
reviews
bestseller list
price survey
what's new
product support
search

educational tools
ask a scientist
math worksheets
vocabulary builders
hangman
iPhone/iPad apps
logic games
brain food

educational insights

feature articles

marketplace
iPhone/iPad apps
reading corner
movie corner

SuperKids home
about SuperKids
advertise!
humor
links
help


* * *

Promotions




* * *



all reviews > > > girls software
Madeline Thinking Games Deluxe

Creative Wonders

Ages 5 and up
Rating Scale
5 = great, 1 = poor
Educational Value
4.7
Kid Appeal
4.8
Ease of Use
4.85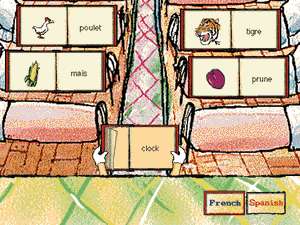 System Requirements

PC Price Survey

Product Support

This two-disk set repackages Madeline's European Adventures with a second disk filled with fun, easy to use problem-solving activities.

The irrepressible Madeline herself guides the user through a tour of her quaint French schoolhouse and its environs, where each room holds a number of interesting tasks available at three difficulty levels. Games include navigating a maze in the garden where Genevieve has lost her way, packing a picnic basket in the kitchen where the user must attend to specific directions, practicing spelling in the classroom with an antique-looking typewriter (what is that?), and exploring the worlds of music and art in the studio, and more. Throughout each activity Madeline turns on her abundant charm, encouraging, praising and giggling her way into the hearts of her newfound friends.

Activities found in this set strengthen critical thinking, problem solving and reasoning skills; pattern recognition; memory; spelling; keyboarding; vocabulary; sequencing, geography and travel skills. Creativity is encouraged through the art, music and interior decorating activities. Beginning French and Spanish are introduced, as well as the use of currency.

Three ability-levels allow for continued use as students develop and their skills increase. Although the program is obviously aimed at children in the early elementary school years, our older testers, although not terrifically challenged, enjoyed both program disks.

Madeline hasn't become a favorite cartoon character for nothing. She is at once inquisitive and energetic, yet sweet and innocent--the epitome of the strong young female.

Our testers' favorite activity was the interior design section, which features an empty room to be wallpapered, carpeted and furnished. Kids frequently returned to the room to rearrange items or totally obliterate their designs and begin anew. "It's fun making a new room every day. I wish I could have all the furniture Madeline has!" was a typical comment.

Madeline Thinking Games Deluxe installed without difficulty on Windows 95.

Because of the packaging, (the two disks come in a cardboard folder instead of a CD case and the User's Guide is imbedded in a section of cardboard packaging in the program box) many of our testers didn't realize that the set includes a User's Guide until it was pointed out to them. They had no trouble utilizing the Thinking Games disk without unaided, but were relieved to discover a guide to consult while playing European Adventures.

Best for... / Bottom-Line


European Adventures alone makes this a great program to own. The addition of a quickly accessible game disk only adds to its universal appeal!
See SuperKids' comparisons with other girls software titles, and the Buyers Guide for current market prices of this PC-only program.
PC: Windows 3.1, Windows 95, 486/50 Mhz or faster cpu, 10 MB free hard drive space, 8 MB RAM, VGA 256 colors, 640x480 monitor, Double-speed or faster CD-ROM, Windows compatible sound card

Reviewed on:

Pentium166 with 24MB and 12XCD
return to top of page
---


Questions or comments regarding this site? webmaster@superkids.com
Copyright © 1998-2023 Knowledge Share LLC. All rights reserved. Privacy Policy