free newsletter!

tell a friend!

contests

software
reviews
bestseller list
price survey
what's new
product support
search

educational tools
ask a scientist
math worksheets
vocabulary builders
hangman
iPhone/iPad apps
logic games
brain food

educational insights

feature articles

marketplace
iPhone/iPad apps
reading corner
movie corner

SuperKids home
about SuperKids
advertise!
humor
links
help


* * *

Promotions




* * *



all reviews > > > digital camera software
Jam C@m 2.0

KB Gear Interactive

Ages 8 and up
Rating Scale
5 = great, 1 = poor
Educational Value
4.0
Kid Appeal
4.0
Ease of Use
3.5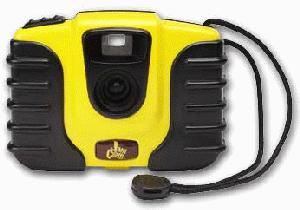 System Requirements

PC / Mac Price Survey

Product Support

This digital camera from KB Gear Interactive boasts higher resolution than others of its type. At 640 x 480 dpi, it compares to some of the more sophisticated digital cameras on the market, but with a sturdy plastic body and lower price it is a better choice for blossoming young photographers.

The camera comes packaged with two PC-compatible software programs to broaden the product's usability. Microsoft Picture It! 99 lets kids view, edit and enhance their photos, while ArcSoft Photo Fantasy provides over 200 templates into which users insert themselves and their friends with amusing results.

Kids can learn a lot about digital photography and computer assisted photo editing with this product. As with other software of this type, educational value increases with user effort and commitment.

Jam Cam appeals more to the older child, who seeks higher resolution pictures and is not as concerned with pure entertainment. There is no question that the camera itself is a more sophisticated product than digital cameras for kids with lower resolution. Photos taken with Jam Cam can be printed at standard photo size with surprisingly decent results.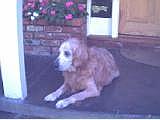 For example, this picture of the golden retriever has been reduced in size to compare to the normal size of the Barbie and Nick-Click photos. To see the actual, unreduced size of photos that we took with the Jam C@m, click on the photo.

The included Microsoft Picture It! program allows kids to resize their photos, manipulate their position and enhance them by changing saturation and hue. Our young testers required guidance with this program, but were able to master its more simple aspects and use them with confidence. ArcSoft Photo Fantasy lends the product a little more entertainment appeal. While it lacks the popular characters and animation possibilities of theBarbie and Nick Click software, it offered enough to keep our testers involved for hours at a time.

Jam Cam offers Windows users two possible ways to connect the camera to the computer. Those running Windows 95 and must use a serial port connection, while Windows 98 users can use either the serial port connection or a USB connection. For users with both options available, the manufacturers recommend the USB connection as it offers superior speed, a definite plus with this somewhat slow-to-upload camera.

Once the camera to computer connection has been established, the user installs the appropriate TWAIN driver via an included floppy diskette. The overall installation process worked without difficulty on our test machines, but definitely required adult supervision.

Macintosh users must have a USB port to work with Jam Cam. The Mac driver is downloaded from the KB Gear website, or, if the user does not have Internet access, requested via telephone.

The two included software programs are easily installed. Downloading pictures into the programs is a little more difficult, however, and a thorough reading of the Jam Cam manual is therefore recommended.

Our kid testers mentioned that taking photos with this camera was, at first, awkward for them. There is not a distinct click or beep to indicate that a picture has been taken. Furthermore, there is a lengthy lag as the camera processes between shots. The camera does have a display that keeps track of the number of pictures taken along with their resolution. Users can set the camera for three different resolutions: at 640 x 480 only 8 pictures can be stored in the camera, but if the resolution is lowered to 320 x 240, up to 26 shots can be stored, and at 240 x 180, the user can take up to 48 pictures without stopping to upload onto the computer. Our testers commended this versatility: "I took the camera on a hike and took as many pictures as I wanted!" raved one 12 year-old tester.

Best for... / Bottom-Line


This digital camera is best suited to the slightly older child--one who is interested in decent picture quality and sophisticated photo editing software. Younger kids who seek something with more entertainment value will do better with other digital camera products.
PC: Windows 95/98, Windows NT 4.0 or later, Pentium 90 or faster cpu, 90 MB hard drive space, 16 MB RAM, Super VGA monitor at 800 x 600 resolution; 1 MB VRAM video card capable of High Color (16-bit), 6X or faster CD-ROM, Open, active 9-pin serial port or USB port.

Mac: iMac, G3 or other USB-supported Mac, 32 MB RAM, 6X or faster CD-ROM Open, active USB port.

Reviewed on:

Pentium450 with 128MB and 24XCD
return to top of page
---


Questions or comments regarding this site? webmaster@superkids.com
Copyright © 1998-2023 Knowledge Share LLC. All rights reserved. Privacy Policy