free newsletter!

tell a friend!

contests

software
reviews
bestseller list
price survey
what's new
product support
search

educational tools
ask a scientist
math worksheets
vocabulary builders
hangman
iPhone/iPad apps
logic games
brain food

educational insights

feature articles

marketplace
iPhone/iPad apps
reading corner
movie corner

SuperKids home
about SuperKids
advertise!
humor
links
help


* * *

Promotions




* * *



all reviews > > > digital camera / software
Nick Click Digital Camera & CD-ROM

Mattel Media

Ages 6 and up
Rating Scale
5 = great, 1 = poor
Educational Value
4.0
Kid Appeal
5.0
Ease of Use
4.5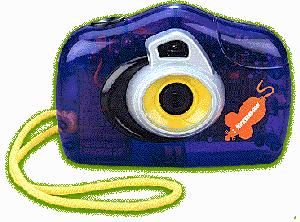 System Requirements

PC Price Survey

Product Support
From the makers of the Barbie Digital Camera, the first digital camera made just for kids, comes a similar product that will appeal to both genders. Nick Click lets young photographers capture the world in pictures, and then adapt it in ways meant to inspire, entertain and amuse. Image resolution is 160 x 120 dpi and can be enhanced using the included software to a resolution of 320 x 240 dpi.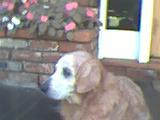 The photo to the right is actual size, and un-enhanced. (Clicking on the photo will show an enlargement to 640 x 480, and the resulting graininess that is a function of the camera's low resolution.)

Although it has no flash attachment, digital photos can be taken indoors or out. Kids can capture up to 6 shots if the camera is not connected to the computer, and up to 20 if it is connected. Photos can be uploaded in minutes for instant feedback and endless fun. Shots are uploaded to the computer clipboard where they automatically appear on the computer screen. Bad shots can be trashed and successful attempts saved. When the user has compiled a working portfolio, the fun really begins.

The program Lobby, or main screen offers four creativity venues. Kids can visit the "Director's Studio", where they create flip books with their digital photos; "Nicktoons Props", in which kids add Nicktoons body parts to their photos to create wacky likenesses of family and friends; the "Publicity Department", which doubles as a print studio where kids create posters, stationery and more featuring their original photos and Nicktoons characters, and "F/X" where kids morph face shots into video arcade characters. In addition to these options, photos can be saved as bitmap or jpeg files and added to web pages, emailed to friends and relatives, or imported into other programs.

In addition to providing a great creativity outlet, Nick Click offers valuable experience with digital photography and computer graphics. Mastery of its editing tools and image formats will transfer to more advanced photo-editing programs.

Our kid testers were thrilled with this program. Not only were they wowed by the ability to take limitless photos and see them appear almost instantly, they were delighted by the innovative ways in which the program let them manipulate their photo images. Of particular interest is the F/X option, which lets users crop faces and add them to 3D bodies. The newly created character then becomes part of a video game or action scene, with hysterical results. Kids can pelt their virtual teacher with pies, watch mom get swallowed by a slithery snake, pull the ocean floor plug and send little brother down the drain and much more.

Installation is simple on Windows machines. The camera itself requires a 9-volt battery which is not included in the package.

Photo quality is grainy, and lighting is an issue -- too much results in washed out shots, while not enough increases the picture's graininess. Young children may need some initial instruction on photo composition. Centering is not easy, and photo quality is greatly affected by user motion. Printing photos can be disappointing -- our testers discovered that reducing photo size successfully improves their printability.

Emailing photos can be a tricky task for the novice computer user. Photos must be exported as bitmap or jpeg files (we recommend choosing jpeg format when possible for quicker and less unwieldy downloads) and sent as attachments, requiring the user to specify the esported files' location.

Best for... / Bottom-Line


This digital camera and software from Mattel Media not only lets kids take pictures of the world around them, it invites them to be creative with their compositions and learn something about photo editing, layout and design. Although it does not take great quality pictures, our reviewers found it to be great fun.
See SuperKids' comparisons with other digital cameras, and the Buyers Guide for current market prices of this PC-only device.
PC: Windows 95/98, Multimedia PC Pentium 100 MHz or better, 13 MB hard drive space, 16 MB RAM, SVGA color monitor with at least 640x480 resolution, Video card capable of 16 bit graphics with a minimum of 2 MB RAM, 4X or faster CD-ROM, 16-bit Sound Blaster or 100% compatible sound card and speakers, Available serial (com) port for connection. Note: a 9-pin (D89) serial port connector is included. A 25-pin connector (DB25) serial port adapter may be required for users with 25-pin serial ports.

Reviewed on:

PentiumII 450 with 128MB and 12XCD
return to top of page
---


Questions or comments regarding this site? webmaster@superkids.com
Copyright © 1998-2023 Knowledge Share LLC. All rights reserved. Privacy Policy