free newsletter!

tell a friend!

contests

software
reviews
bestseller list
price survey
what's new
product support
search

educational tools
ask a scientist
math worksheets
vocabulary builders
hangman
iPhone/iPad apps
logic games
brain food

educational insights

feature articles

marketplace
iPhone/iPad apps
reading corner
movie corner

SuperKids home
about SuperKids
advertise!
humor
links
help


* * *

Promotions




* * *



all reviews > > > science software
StudyWorks! Science

Math Soft

Ages 14 and up
Rating Scale
5 = great, 1 = poor
Educational Value
4.0
Kid Appeal
3.0
Ease of Use
3.5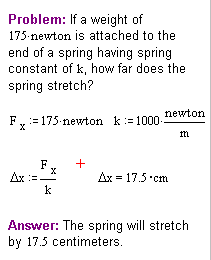 System Requirements

PC / Mac Price Survey

Product Support

Like its counterpart, StudyWorks! Mathematics, this program is designed to be a homework and report helper, a tool that compliments high school and college science courses. It helps the user find the answers to science questions by providing them with the necessary scientific facts and formulas, guiding them through the mathematical equations, and even facilitating their search for outside help, when needed.

In addition, StudyWorks! Science contains a section to help students prepare to take the SAT II tests that includes test-taking strategies and advice on how to attack the different types of questions on the tests.

To keep the program current and increase its interactivity, StudyWorks! Science also includes a list of provocative web links and subject-based online reference sources, and a 'Collaboratory', where students can connect with other students and teachers to exchange ideas and collaborate on difficult or intriguing problems.

The StudyWorks! desktop features a main window from which personalized worksheets can be prepared. The Resource Center includes in-depth information about the Earth, Science & Astronomy, Biology, Chemistry and Physics. It also includes Reference Tables and a searchable Science Glossary. The Math Palette is an interactive calculator which allows the user to complete computations, create graphs, type inequalities and more, and insert them into worksheets and reports.

In addition to providing the information needed to better understand concepts discussed in associated school courses, the program's graphics help students who are having trouble visualizing more difficult concepts. Among the visual resources included are videos, animations, photos, graphs, and even sample exercises to help illustrate included concepts.

"This is very slick," was one student's comment when testing the program, and slick is the way homework and reports look when they've been created with StudyWorks! Because of this, the program has great appeal for those who place a high value on how their homework looks, and less for those who are satisfied with their own scribbles and don't want to bother learning to use the program.

Our testers were impressed with the portion covering the SAT II tests. Unlike the SAT I tests, SAT IIs are usually taken when the student completes the associated high school course, sometimes as early as the end of freshman year. In addition to providing helpful test-taking strategies, StudyWorks! outlines the types of questions that will be asked in each test, enabling students to better prepare.

StudyWorks! Science installs easily on Windows 95/98. As part of the installation process it asks whether the user will want to access additional StudyWorks content on the MathSoft web site. An affirmative answer to this question initiates a search of the user's hard drive for a compatible mail program and Internet service provider. The user's email address is then requested for future product update information.

SuperKids recommends a thorough reading of the program's User's Guide to learn how to use the program to full advantage.

Best for... / Bottom-Line


StudyWorks! Science is not a replacement for science classes, and it doesn't actually do the homework (sigh) . It is, however, an extremely handy homework tool, a word processor, calculator, and reference source in one, and as such, it is an excellent program.
See SuperKids' comparisons with other science software titles, and the Buyers Guide for current market prices of the PC and the Mac versions.
PC: Windows 3.1, 95/98 or higher, 486/66 MHz or faster cpu, 8 MB RAM (16 MB recommended), 256-color SVGA display, Double-speed or faster CD-ROM, Windows-compatible sound card, use of the Collaboratory & Web Link require Internet access.

Mac: System 7.1 or higher, Power Mac, iMac or faster cpu, 16 MB hard drive space, 8 MB RAM, CD-ROM drive, use of the Collaboratory & Web Link require Internet access.

Reviewed on:

PowerMac 6400/200 with 32MB and 8XCD
Pentium166 with 24MB and 12XCD
return to top of page
---


Questions or comments regarding this site? webmaster@superkids.com
Copyright © 1998-2023 Knowledge Share LLC. All rights reserved. Privacy Policy