free newsletter!

tell a friend!

contests

software
reviews
bestseller list
price survey
what's new
product support
search

educational tools
ask a scientist
math worksheets
vocabulary builders
hangman
iPhone/iPad apps
logic games
brain food

educational insights

feature articles

marketplace
iPhone/iPad apps
reading corner
movie corner

SuperKids home
about SuperKids
advertise!
humor
links
help


* * *

Promotions




* * *



all reviews > > > reading software > > > kindergarten software
Reading Blaster for Kindergarten

Knowledge Adventure

Ages 4 to 6
Rating Scale
5 = great, 1 = poor
Educational Value
3.5
Kid Appeal
3.5
Ease of Use
4.5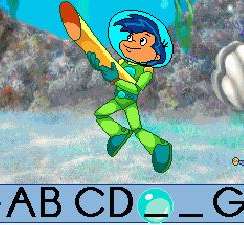 System Requirements

PC / Mac Price Survey

Product Support

This program, part of the Blaster Learning Series, is designed specifically to drill those skills needed by kindergartners as they begin to learn to read. 'Best friends' Max Blaster and his alien buddy G.C. dive down to an underwater world, where undisclosed treasure is hiding. Finding the treasure is simple -- the user must earn stars by successfully completing reading activities. Once five stars have been collected, the race for treasure is on. To complete the hunt, kids navigate a simple maze, aided by underwater buddies.

In addition to the five reading activities, a treasure room is set up for each registered user. This room not only stores accumulated treasure, it also includes word flash cards, a kid-friendly word processor, B-mail which receives lighthearted messages from Blaster friends, stories that can be read aloud and printed, and a personalized star chart, mapping the user's progress in the program.

Reading Blaster for Kindergarten includes five different learning activities with five distinct ability levels. Changing levels greatly influences the material covered in the activities, so that it looks like a new game each time the child moves up a level. For example, the 'Clamshell Scramble' asks kids to correctly order scrambled puzzle elements. At the simplest level this means putting the letters in the right order to spell a given word, while at Level 5, kids are asked to sequence words to complete sentences.

Skills addressed by this program include letter recognition, capital and lowercase letters, alphabetical order, phonics, matching sounds to pictures and words, grouping words into categories, rhyming, simple spelling and simple sentence construction. Although many of the activities do require good hand-eye coordination and 'fast-twitch muscle' skills, kids are given unlimited time to complete the activities so that this aspect only rarely becomes frustrating for unskilled users.

Reading Blaster includes simple activities in an easy to use format. It received average reviews from our testers, in large part because it does nothing to make it stand out from the crowd of software available in this age group. The Blaster characters are cute, but not the kind of favorites that kids clamor over. In like manner, the activities are well-organized and educationally sound, but not new or different in any recognizable way. "I would use this program to supplement others that we have," commented one parent tester, "but it would not be my first choice if I could only choose one program."

Reading Blaster for Kindergarten installs without difficulty. The installer checks for current versions of Adobe Acrobat and QuickTime and updates when necessary. There are no instructions for the activities, but our testers did not report any problems understanding or completing them.

Best for... / Bottom-Line


This Blaster Learning program takes kindergartners undersea to hunt for treasure and complete familiar looking pre- and early-reading activities. Although it's well-organized, and attractive, it has a cookie-cutter, ho-hum feel.
See SuperKids' comparisons with other reading software titles, and the Buyers Guide for current market prices of the PC and the Mac versions.
PC: Windows 98/95, P90 or faster cpu, 16 MB RAM (32 MB recommended), Super VGA graphics, 4x or faster CD-ROM, Windows compatible sound card.

Mac: System 7.5.3 or higher, 32 MB RAM, 256-color graphics and minimum 640 x 480, 4x or faster CD-ROM.

Reviewed on:

PowerMac 6400/200 with 32MB and 8XCD
Pentium166 with 24MB and 12XCD
return to top of page
---


Questions or comments regarding this site? webmaster@superkids.com
Copyright © 1998-2023 Knowledge Share LLC. All rights reserved. Privacy Policy