free newsletter!

tell a friend!

contests

software
reviews
bestseller list
price survey
what's new
product support
search

educational tools
ask a scientist
math worksheets
vocabulary builders
hangman
iPhone/iPad apps
logic games
brain food

educational insights

feature articles

marketplace
iPhone/iPad apps
reading corner
movie corner

SuperKids home
about SuperKids
advertise!
humor
links
help


* * *

Promotions




* * *



all reviews > > > reading software
Arthurís Reading

Creative Wonders

Ages 4 to 7
Rating Scale
5 = great, 1 = poor
Educational Value
4.0
Kid Appeal
3.9
Ease of Use
5.0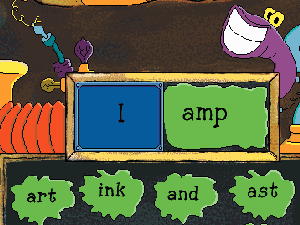 System Requirements

PC Price Survey

Product Support

Childrenís beloved pal Arthur returns in this pleasant 2 disc program that offers plenty of pre- and early reading activities for the young student. Set in various locations around Arthurís school, and featuring Arthurís array of amiable friends, kids can explore 12 different areas, drilling and strengthening necessary skills as they play.

Disc1 attacks Basic Reading skills, focusing on the alphabet, letter recognition and letter sounds, as well as such less apparent but equally important skills as following directions and sorting by attribute. Disc 2 moves on to Advanced Reading skills, encouraging the development of critical reading and vocabulary skills.

Arthurís Reading is aimed at drilling the young reader in skills needed to become a successful reader. Activities therefore focus on letter and sound recognition, phonics, word recognition, grammar, sequencing, sentence construction, vocabulary building and reading comprehension.

Multiple, easily adjustable difficulty levels exist for the activities on each disc. An auto leveling feature also allows the program to automatically adapt the level according to the studentís measured performance. Progress reports let parents and teachers to keep track of how students are doing in each activity. Disc 1 also includes reward trophies, won, at each level, when users correctly complete required sessions in all available activities.

While Arthurís Reading offers sound reading activities and drills, it lacks novelty and sparkle, causing our testers to give it less than perfect scores in this area. Kids liked the inclusion of Arthur and his friends, but felt that the activities were lackluster and tiresome. ďIt seems like the creators were just going through the motions, without really putting much energy into the program,Ē was one parentís reaction. ďMy daughter enjoys it, but itís not destined to be a favorite.Ē

Program activities include letter puzzles, renditions of MadLibs and hangman, a sorting game, the omnipresent matching game and a cute spelling game in which Arthurís pals are contestants in a spelling bee, and the user must choose the character who spells the designated word correctly. A print activities section lets kids extend their fun with numerous non-computer games.

Arthurís Reading installs without difficulty on Windows machines. Each of the two discs must be installed separately. Program navigation and use are simple and straightforward -- very little if any adult supervision is needed for even young users to enjoy the activities. Because of this, it works well in classroom settings as a free time alternative.

Along with other programs from The Learning Company (parent company of Creative Wonders) Arthurís Reading includes a new technology aimed at ďkeeping consumers informed of new product features, free offers and other important newsĒ (i.e., advertisements). It does this through the userís Internet connection. This option can be turned off at any time by un-checking the default box in the options menu.

Best for... / Bottom-Line


This agreeable program includes numerous drills designed to strengthen skills needed by pre- and early readers. Because the activities are not particularly novel, however, veteran computer users and those unimpressed with the Arthur theme, may be disappointed.
See SuperKids' comparisons with other reading software titles, and the Buyers Guide for current market prices of this PC-only title.
PC: Windows 95, 98 and NT4.0, 486/66MHz or faster cpu, 20 MB hard drive space, 8 MB RAM for Windows95/98, 16 MB RAM for Windows NT4.0, 800x600, 256 color display, Double-speed or faster CD-ROM, Sound Blaster or compatible sound card.

Reviewed on:

Pentium266 with 64MB and 12XCD
return to top of page
---


Questions or comments regarding this site? webmaster@superkids.com
Copyright © 1998-2023 Knowledge Share LLC. All rights reserved. Privacy Policy