free newsletter!

tell a friend!

contests

software
reviews
bestseller list
price survey
what's new
product support
search

educational tools
ask a scientist
math worksheets
vocabulary builders
hangman
iPhone/iPad apps
logic games
brain food

educational insights

feature articles

marketplace
iPhone/iPad apps
reading corner
movie corner

SuperKids home
about SuperKids
advertise!
humor
links
help


* * *

Promotions




* * *



all reviews > > > kindergarten software > > > math software
JumpStart Math for Kindergartners

Knowledge Adventure

Ages 4 to 6
Rating Scale
5 = great, 1 = poor
Educational Value
4.9
Kid Appeal
4.9
Ease of Use
5.0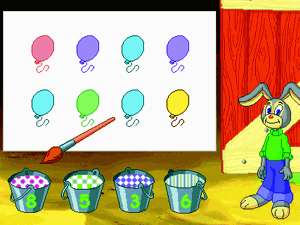 System Requirements

PC / Mac Price Survey

Product Support

This superior math program from Knowledge Adventure does an outstanding job of providing the young user with basic math facts. Not only does it include 11 skill-building activities, but it also offers eight learning songs, concrete lesson examples via pop-up flashcards, and clickables that not only amuse, but teach as well.

The program begins as Hopsalot Bunny welcomes the user to his kindergarten classroom. Just then, an invitation to a special surprise party arrives, accompanied by a mysterious bean. With the user's help, Hopsalot pots the magical bean, which immediately begins to grow, transporting the schoolhouse to CloudTown. Here, a party is being planned for the affable giant, Guthry. The party can't take place, however, until the preparations are completed and 100 candles, rewards for successful completion of math-related activities, are earned by the user. And so, the child is left to explore Cloudtown and experience the many math activities that await.

JumpStart Math for Kindergartners bombards the kindergartner with numbers and math. Not an opportunity is missed. Simple objects, when clicked, yield fun math information, sometimes presented in song, sometimes via character dialogue. Everyday uses of math are highlighted, so that skills learned in the program can be transferred to everyday life. Activities tackle the following early math skills: number recognition, counting, addition, subtraction, sorting, problem solving, measurement, sequences and patterns, even writing numbers.

Candles are not hastily awarded. Numerous trials are required to complete an activity and earn a candle for Guthry's cake, so the program offers plenty of opportunity for exposure and practice. A Progress Report keeps track of the number of trials attempted for each activity, and the number correctly completed. Also included with the program is an Activity Book that can be printed for use away from the computer.

This program scored highly among our kid testers. Its well-developed storyline succeeds at keeping kids interested and involved, and the activities are suitably challenging but never frustrating. Goal-oriented students can work to collect the magic number of candles for the surprise party, receiving enticements along the way. With every 10 candles collected they are invited to help hide party presents and decorations around Guthry's home.

Parents liked the program as well. "I was pleased with the extensive math exposure offered by the program." commented one parent.

JumpStart Math for Kindergartners installs without difficulty. Program navigation is intuitive, and activities are satisfactorily explained by story characters.

Best for... / Bottom-Line


This outstanding math program for kindergartners includes oodles of activities, songs and clickables to provide kids with math learning galore. What's more, the story is interesting and the characters lovable.
PC: Windows 98/95, 486DX2/66 or faster cpu, 15 MB hard drive space, 16 MB RAM, SVGA 256-color graphics adapter, Quad-speed or faster CD-ROM, MPC-compatible sound card.

Mac: System 7.5 or higher, PowerPC or faster cpu, 15MB hard drive space, 16 MB RAM, 256-color graphics capability, Quad-speed or faster CD-ROM.

Reviewed on:

PowerMac 6400/200 with 32MB and 8XCD
Pentium266 with 64MB and 12XCD
return to top of page
---


Questions or comments regarding this site? webmaster@superkids.com
Copyright © 1998-2023 Knowledge Share LLC. All rights reserved. Privacy Policy