free newsletter!

tell a friend!

contests

software
reviews
bestseller list
price survey
what's new
product support
search

educational tools
ask a scientist
math worksheets
vocabulary builders
hangman
iPhone/iPad apps
logic games
brain food

educational insights

feature articles

marketplace
iPhone/iPad apps
reading corner
movie corner

SuperKids home
about SuperKids
advertise!
humor
links
help


* * *

Promotions




* * *



all reviews > > > math software
Quizz Show: Alien Escape

VTech Soft

Ages 8 to 12
Rating Scale
5 = great, 1 = poor
Educational Value
4.3
Kid Appeal
3.5
Ease of Use
4.5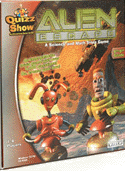 System Requirements

PC / Mac Price Survey

Product Support

Featuring a Quiz Show format, this program drills kids on Math, Science and Technology, with a few general categories (Entertainment, Sports and Leisure) thrown in for additional appeal. Users are stranded on the forbidden planet Zluton, which unfortunately lies directly in the path of a speedily approaching meteorite. Users must earn parts needed to build a rocket powerful enough to allow them to escape the planet. The program pits kids against computer opponents, or against each other (up to four can play at once), in an effort to earn the most points and convert these points to needed rocket power!

Quizz Show: Alien Escape includes over 1,400 curriculum based questions, to help students polish their knowledge in Math, Science and Technology. Topics are varied, and questions are interesting and well-written. All answers are given in multiple choice format, so even if an answer is not known, kids can use critical thinking skills to help them deduce the correct response. Confirming information is given in many instances to further strengthen the child's knowledge of the particular subject. Three skill levels allow kids to progress with the program while providing adequate challenge for students working at many levels.

Our teacher reviewers praised the content of the questions, but felt that the program suffers from too much glitz. The storyline and special effects dominate, to the extent that interaction suffers. "Too much time is spent on the program animation," was one reviewer's comment, "kids sit and twiddle their thumbs while watching the screen."

In addition to the program's questions, a 'Question Editor' allows students and/or parents and teachers to create, save and play their own original questions. Kids can even exchange their compositions with friends who have the any of the games in the "Quizz Show" series from VTech.

Although the claymation animation featured in Quizz Show: Alien Escape is state of the art, it is not all that attractive. Our kid testers were not enthused by the characters, and found it difficult to choose their computer alter-identities. They did, however enjoy the quiz show format, and found the questions challenging while not overly difficult. They especially enjoyed the catch-all "Guzzle, Gobble and Gunk" category, and were surprised to find entries featuring such card games as "Magic", and "Star Wars".

Alien Escape installs without difficulty. It offers both a minimum and a complete install. We chose the former, and had no problems running the program. Program navigation is simple -- users select a buzz-in keyboard letter or use the included plastic game buzzers to respond to questions. Each question has a point value that is awarded for correct answers and subtracted for incorrect answers. The player with the highest point value at the end of three rounds of play 'lifts-off' to survive the meteoric collision.

Best for... / Bottom-Line


Quizz Show: Alien Escape offers well-written, curriculum-based questions to strengthen students' skills in Math, Science and Technology. The chunky claymation characters and space-alien theme make it best for the sci-fi loving crowd, boys in particular.
See SuperKids' comparisons with other math software titles, and the Buyers Guide for current market prices of this PC-only program.
PC: Windows 95/98, Pentium 166 or faster cpu, 45 MB hard drive space, 16 MB RAM, 16-bit color display, 8x or faster CD-ROM, optional: Joystick (Game) Port (needed to use game buzzers).

Reviewed on:

Pentium266 with 64MB and 12XCD
return to top of page
---


Questions or comments regarding this site? webmaster@superkids.com
Copyright © 1998-2023 Knowledge Share LLC. All rights reserved. Privacy Policy