free newsletter!

tell a friend!

contests

software
reviews
bestseller list
price survey
what's new
product support
search

educational tools
ask a scientist
math worksheets
vocabulary builders
hangman
iPhone/iPad apps
logic games
brain food

educational insights

feature articles

marketplace
iPhone/iPad apps
reading corner
movie corner

SuperKids home
about SuperKids
advertise!
humor
links
help


* * *

Promotions




* * *



all reviews > > > math software
Mathville VIP

Courseware Solutions Inc.

Ages 11 and up
Rating Scale
5 = great, 1 = poor
Educational Value
5.0
Kid Appeal
4.0
Ease of Use
4.5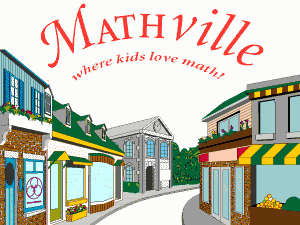 System Requirements

PC / Mac Price Survey

Product Support

Set in the virtual town of "Mathville," this program allows middle school and high school students to practice everyday math skills in real-life activities. These activities incorporate a variety of age-appropriate curriculum topics in familiar tasks. Kids begin on the townís main street, where they can choose to work (a good place to begin), shop, or pursue leisure-time hobbies and sports.

Math problems appear at every turn; many obvious, many cleverly disguised as games or chores. While at work, students balance bank accounts, estimate company profits, schedule workers, interpret business forecasts, compute percentage increases and stock values, and assemble and pack shipping boxes among other things. At the clothing store, students might choose to purchase a jacket at 20% off the regular price. They earn stars by correctly calculating the newly reduced cost of the jacket. At the sports center, they might choose to play soccer. Stars in this activity can be earned by computing the probability of a win based on a teamís current record or measuring the perimeter of one of the hexagonal shapes on a soccer ball.

In addition to math problems, puzzles allow the student to practice problem solving and logic skills.

This program includes math problems and activities covering curriculum found in grades 6 and up. Among the topics addressed are: number sense including mental math, place value, estimating, greatest common factor, least common multiple, decimals, fractions, rate, ratio, percent, geometry including measuring angles, congruence, coordinates, symmetry, analyzing two and three-dimensional figures, measurement including length, weight, perimeter, area, volume, surface area, time and metric conversion, probability including averages, data interpretation, and graphs, and patterns.

Activities are not arranged by topic or difficulty level, and users do not progress from simple to more difficult problems. The programís creators note that such an approach would be inconsistent with the real-world orientation stressed in the program. Although it is designed to reinforce math skills learned in the classroom, Mathville VIP also attempts to expose students to situations that build math confidence and problem-solving skills.

Our teacher reviewers commended this program for its depth of coverage and ease of use. "Mathville VIP makes a great free-time activity in my classroom. I feel good about having my students explore this program."

Our kid testers who like to challenge their math knowledge and problem-solving skills enjoyed this program, noting that the problems posed were intriguing, but not overly complex. They especially liked the way the program incorporates math into everyday activities: "I never realized how much math there is in baseball," said one surprised student, "Itís pretty cool."

Kids on the younger end of the specified age-range (6th grade) mentioned that some of the material covered was hard or had not yet been taught in the classroom. They lacked confidence in their ability to answer problems that used unfamiliar situations and terminology. These students initially required an older child or adult partner, but soon began to enjoy the program unaided. They noted that the on-screen hints were helpful when they were uncertain about how to tackle a particular problem.

In addition to verbal cheers and accolades following each correct response, students win printable certificates and awards (such as "Employee of the Month") for successful performances.

This program runs off the CD-ROM in both Macintosh and PC platforms. Because of this, it doesnít keep individual records and can only print reports for currently in-progress games.

Best for... / Bottom-Line


Mathville VIP includes challenging math activities presented in real-life situations. Although it lacks the fancy graphics and animation found in some of the more commercial math programs, it is recommended for motivated students who seek a program that will drill and strengthen math skills learned in the classroom.
See SuperKids' comparisons with other Math software titles, and the Buyers Guide for current market prices of the PC and Mac versions.
PC: Windows 3.1 or higher, 8 MB RAM, SVGA 640 x 480 display, CD-ROM drive, sound card.

Mac: System 7 or higher, 8 MB RAM, 640 x 480 color monitor, CD-ROM drive.

Reviewed on:

PowerMac 6400/200 with 32MB and 8XCD
Pentium166 with 24MB and 12XCD
return to top of page
---


Questions or comments regarding this site? webmaster@superkids.com
Copyright © 1998-2023 Knowledge Share LLC. All rights reserved. Privacy Policy