free newsletter!

tell a friend!

contests

software
reviews
bestseller list
price survey
what's new
product support
search

educational tools
ask a scientist
math worksheets
vocabulary builders
hangman
iPhone/iPad apps
logic games
brain food

educational insights

feature articles

marketplace
iPhone/iPad apps
reading corner
movie corner

SuperKids home
about SuperKids
advertise!
humor
links
help


* * *

Promotions




* * *



all reviews > > > math software
The ClueFinders' Math Ages 9-12

The Learning Company

Ages 9 to 12
Rating Scale
5 = great, 1 = poor
Educational Value
4.0
Kid Appeal
4.0
Ease of Use
4.0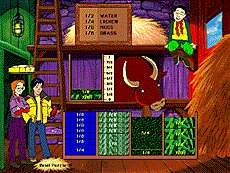 System Requirements

PC / Mac Price Survey

Product Support

The characters first introduced in The ClueFinders' 3rd Grade are back, eager to begin a new and exciting adventure. This one commences in a village in the Himalayan mountains where the townspeople have gathered for a festival. When the time comes for the presentation of the ancient treasures, the treasure room is found to be empty. Footprints in the snow cause speculation that the perpetrator is none other than Yeti, the local version of Big Foot. Common sense tells the elder of the village that a more reasonable explanation is likely. He sagaciously calls his friends from the west, Joni, Santiago, Leslie, Owen, and their loyal computerized friend LapTrap. If anyone can find the thieves and recover the missing treasures The ClueFinders can.

Kids work their way through the village, solving math puzzles in eight activity locations, and earning clues in an attempt to discover what treasure was stolen, where it is hidden, and who stole it. Each clue allows the student to exclude possible suspects, objects and locations, so that eventually the correct combination can be deduced. At this point an accusation is made, and the user, if correct, recovers one of the stolen treasures. A total of 24 treasures must be recovered to ultimately solve the mystery and find out who (or what) is responsible for the alarming footprints in the snow.

ClueFinders' Math Ages 9-12 drills such math basics as multiplication and division, addition and subtraction, areas and perimeters, geometry, fractions, decimals, charts and graphs and word problems. Logic and problem solving skills are also used as the student attempts to piece together clues to deduce the answers to the mystery. Three levels of play attempt to cover math skills needed by students ranging in age from 9 to 12 years.

Cartoon quality animation and an alluring storyline make Clue Finders' Math enticing for appropriate aged users, as does its similarity to the perennial favorite board game "Clue." Our reviewers especially liked the ingenious "logic cube" which keeps track of eliminated suspects, objects and locations in an easy to understand 3D graphic representation.

The math activities themselves were not favorably received by our testers. Although a few are appropriately challenging without being frustrating, many are overly complex because of their fast-twitch gaming aspect. As one parent reviewer said, "Most of the games add nothing to one's math skills, and only frustrate by adding a distracting dimension to the drill." This is most clearly seen in the Great Hall game, where the user must complete simple equations while playing a fast-paced "Brickles"-like game. The parallel processing needed to complete this activity detracts from the math, teaching nothing and creating a potentially negative experience for the child. A SuperKids' teacher reviewer points out, "If the intention is to teach multi-tasking then this is a good drill, but if it's meant to teach math it's counterproductive."

Testers also mentioned a frustrating lack of consistency in the difficulty levels of the math problems. One 12 year-old user told us that: "The multiplication problems are way too easy, even at the highest level, but some of the geometry problems are really difficult!"

This program installs on Windows 95 without difficulty.

A map option, accessed by double-clicking on LapTrap, allows for simple, straightforward program navigation. Although the program automatically adjusts the level of play to match the student's performance, a leveling screen also lets the user manually adjust the difficulty levels of the activities. A Progress Report shows the number of available problems, tries and correct answers, and a ClueFinder's Club option lets the user read about the super sleuths.

Best for... / Bottom-Line


ClueFinders' Math includes exceptional graphics and animation and a splendid storyline. It is not recommended for the struggling student who needs instruction and practice with math skills, but for an average or above-average math student who enjoys fast-twitch games and wants to work at quick-thinking and multi-tasking it's quite fun.
See SuperKids' comparisons with other math software titles, and the Buyers Guide for current market prices of the PC and Mac versions.
PC: Windows 3.1 or higher, 486DX/66MHz or faster cpu, 12 MB hard drive space, 16 MB RAM, 256-color SVGA display, Quad-speed or faster CD-ROM, Windows-compatible sound card.

Mac: System 7.1 or higher, PowerPC, 66MHz or faster, 12 MB hard drive space, 16 MB RAM, 256-color display, Quad-speed or faster CD-ROM.

Reviewed on:

PowerMac 6400/200 with 32MB and 8XCD
Pentium166 with 24MB and 12XCD
return to top of page
---


Questions or comments regarding this site? webmaster@superkids.com
Copyright © 1998-2023 Knowledge Share LLC. All rights reserved. Privacy Policy