free newsletter!

tell a friend!

contests

software
reviews
bestseller list
price survey
what's new
product support
search

educational tools
ask a scientist
math worksheets
vocabulary builders
hangman
iPhone/iPad apps
logic games
brain food

educational insights

feature articles

marketplace
iPhone/iPad apps
reading corner
movie corner

SuperKids home
about SuperKids
advertise!
humor
links
help


* * *

Promotions




* * *



all reviews > > > kid security software
Cyber Patrol

The Learning Company

All ages
Rating Scale
5 = great, 1 = poor
Effectiveness
4.8
Breadth
4.5
Ease of Use
4.0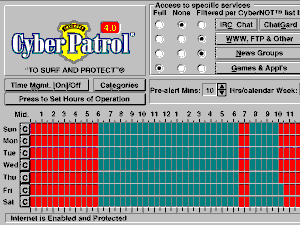 System Requirements

PC / Mac Price Survey

Product Support

As families use the Internet as an educational resource in increasing numbers every day, parents must decide how to make it a safe place for their children. Pornography, violence, obscenities and hatred lurk in unexpected places, and innocent children stumble upon them all too frequently.

Cyber Patrol, an Internet filtering program from The Learning Company, attempts to manage children's experiences on the Web in a number of ways. It features automatic blocking of access to Internet sites specified on the "CyberNOT" list, a collection of sites which the 'patrol' has found to contain material that parents might find inappropriate for their children.

The Learning Company has developed a strict set of criteria that categorizes Web sites according to their level of objectionable content. Their categories include: Partial Nudity; Nudity; Sexual Acts/Text; Gross Depictions; Intolerance; Satanic or Cult; Drugs and Drug Culture; Militant/Extremist; Violence/Profanity; Questionable/Illegal & Gambling; Sex Education and Alcohol & Tobacco.

Parents can select the categories of content they wish to block, and they can adjust the restrictions to reflect multiple family users. Thus, for example, a teen user may be allowed less restricted Internet access than a young child user. Parents can also deny access to additional sites not included in any of the above-mentioned categories. The CyberNOT list is updated weekly for downloading as is the CyberYES list, an assemblage of Cyber Patrol approved kid-sites.

In addition to blocking objectionable Web sites, Cyber Patrol offers users the ability to block Chat groups and prevent children from divulging personal information on-line. It can, furthermore, restrict overall access to the Internet. Parents can set controls to allow Internet access only at certain times of the day and for limited periods of time. Access limitations can also be placed on specific desktop applications, such as games and parent-only files. Administration of the program is password protected; changing the settings is a simple task and special safeguards prevent kids from disabling the program or removing it from the user's hard drive.

Cyber Patrol succeeds down the line in fulfilling its promises to control Internet use. Attempts by SuperKids' testers to directly access known pornographic sites were intercepted, resulting in a Cyber Patrol "CheckPoint" screen. Purposeful searches in several search engines (like Excite, Altavista, and HotBot) for similar sites did produce lists of adult sites, but attempts to click on the listed site links were again blocked. Inadvertent encounters with porn sites were generally prevented, and access to pornographic newsgroups known to Cyber Patrol was denied. Cyber Patrol was able to 'intelligently' distinguish between acceptable and unacceptable uses of terms like 'sex' and 'breast', and generally allowed access to sites with clinical discussions of such topics as sexually transmitted diseases, basic anatomy and health.

Cyber Patrol is currently available in CD form, or as a purchasable download from the Cyber Patrol Web Site. SuperKids does not recommend installing the CD version. We experienced significant difficulties both installing and removing this version from our test machines, requiring several phone calls to a helpful tech support staff. Those users who already own the CD and wish to use it to install the program are cautioned that the directions fail to mention that you must be on-line when you install the program or it will not function correctly.

Downloading the program from the Cyber Patrol Web Site is straightforward and initial purchase of the product includes 3 months of free weekly CyberNOT and CyberYES list updates. After that time additional updates can be purchased in 6 month increments. This program is also offered by some Internet Service Providers (ISPs) throughout the world -- check the Cyber Patrol Web Site for more information about participating ISPs.

Aside from the installation problems our testers encountered when using the CD-ROM version, Cyber Patrol was as easy to use as SurfWatch.

Best for... / Bottom-Line


This is a good, solid overall program for parents who want to control their children's Internet access and use. Use of the download rather than the CD version is highly recommended.
PC: All Windows operating systems,

Mac: all Macintosh operating systems.

Reviewed on:

Pentium166 with 24MB and 12XCD
return to top of page
---


Questions or comments regarding this site? webmaster@superkids.com
Copyright © 1998-2023 Knowledge Share LLC. All rights reserved. Privacy Policy