free newsletter!

tell a friend!

contests

software
reviews
bestseller list
price survey
what's new
product support
search

educational tools
ask a scientist
math worksheets
vocabulary builders
hangman
iPhone/iPad apps
logic games
brain food

educational insights

feature articles

marketplace
iPhone/iPad apps
reading corner
movie corner

SuperKids home
about SuperKids
advertise!
humor
links
help


* * *

Promotions




* * *



all reviews > > > kid security software
SurfWatch

SurfWatch Software

All ages
Rating Scale
5 = great, 1 = poor
Effectiveness
4.5
Depth
4.5
Ease of Use
4.8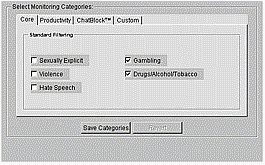 System Requirements

PC / Mac Price Survey

Product Support

With more families, schools and businesses using the Internet as an invaluable resource, concern is mounting about the inherent dangers of a 'limitless information' source. Parents seek ways to ensure that the content their children access while working on the Web is age-appropriate.

SurfWatch is a downloadable application that effectively filters objectionable Internet material. An experienced team of Web surfers has created a database that blocks access to over 100,000 URLs, newsgroups and chat channels. This team continues to add 400 new sites to their database each day, through actual contact with potentially inappropriate sites and through use of a context-based pattern-matching system that combs the Web daily to find potential sites to block. Filtering is conducted in five core categories: Sexually Explicit, Violence, Hate Speech, Gambling, and Drugs/Alcohol/Tobacco, as well as 15 additional subcategories including Astrology/Mysticism, Entertainment, Personals/Dating, Shopping and Travel among others.

SurfWatch does not provide for different user profiles, nor does it allow different levels of security. It is activated by simply opening the application, entering the protection password, and clicking "on" or "off". Users can customize the program by choosing an option that blocks the entire Internet and then allows only those sites listed by parents as permissible. Adults can also set the program to restrict their kids to only Yahooligans-preferred sites. Chat rooms and newsgroups can, in like manner, be forbidden entirely, or accessed only as dictated by adult administrators.

SurfWatch succeeded in blocking all inappropriate Web locations sought by our testers. Attempts to access these sites resulted in a simple "Blocked by SurfWatch" error message.

A search for the term "sex" yielded clinical and sociological topic headings as well as pornographic material, but while the former results were sometimes accessible when their links were clicked, the latter were not. At times our searches resulted in topic headings that included expletives and/or obscenely suggestive text. Although these sites were not ultimately accessible, the listings did manage to get through.

In other cases SurfWatch was overzealous in its filtering -- a perfectly legitimate women's magazine was blocked, presumably because it included a simple line drawing of a nude female from head to waist -- a graphic that even prudish viewers could barely deem objectionable. Other blocked searches included many anatomical words related to sex, even when on a medical information site.

SurfWatch can be purchased and downloaded through its Web site. A 15-day free trial is currently available for download as well, and AT&T World Net users can download the product to try free for 3 months. Internet Service Providers (ISPs) are beginning to use SurfWatch from their end to offer their customers hassle-free Internet filtering. Updates are required, and can be downloaded free for one year from the purchase date.

The program comes with its own uninstaller, but beware, users must enter their chosen Administrator password in order to remove the program from their systems. Even so, the removal leaves numerous bits and pieces that need to be manually removed (with the help of a phone call to SurfWatch's friendly tech support staff) to restore a system to its pre-SurfWatch state.

Best for... / Bottom-Line


SurfWatch is generally effective and easy to use. It works best for families or schools that don't require different settings for various users.
PC: Windows 95, 98 or NT, a modem, 8 MB hard drive space, 4 MB free hard drive space, Internet software (Web browser, newsreader, FTP client) using MS Windows 95 or 98 Winsock

Mac: System 7.1 or higher and Mac TCP 2.06 or later or Open Transport 1.1 or later, 5 MB free hard drive space, and at least 8 MB RAM, Internet software (Web browser, newsreader, FTP client)

Reviewed on:

Pentium166 with 24MB and 12XCD
return to top of page
---


Questions or comments regarding this site? webmaster@superkids.com
Copyright © 1998-2022 Knowledge Share LLC. All rights reserved. Privacy Policy