free newsletter!

tell a friend!

contests

software
reviews
bestseller list
price survey
what's new
product support
search

educational tools
ask a scientist
math worksheets
vocabulary builders
hangman
iPhone/iPad apps
logic games
brain food

educational insights

feature articles

marketplace
iPhone/iPad apps
reading corner
movie corner

SuperKids home
about SuperKids
advertise!
humor
links
help


* * *

Promotions




* * *



all reviews > > > girls software
Detective Barbie 2: The Vacation Mystery

Mattel Media

Ages 5 and up
Rating Scale
5 = great, 1 = poor
Educational Value
3.5
Kid Appeal
4.0
Ease of Use
4.0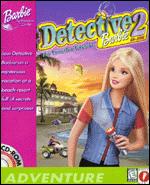 System Requirements

PC / Mac Price Survey

Product Support

Barbie is back, reprising her recent role as girl detective extraordinaire (see Barbie Detective). In this latest caper, 'Team Barbie Detective' (comprised of Barbie and her friends Ken and Becky) have embarked on a fantastic island vacation. But intrigue follows them to their idyllic getaway, and soon they are embroiled in a strange and dangerous mystery.

No sooner has the resort owner, Molly, welcomed the trio, than another of her guests, Professor Fitzgibbons, uncovers a secret about the hotel that sets in motion a mysterious adventure. Apparently the eccentric man who originally built the resort created secret passages, hiding places and puzzles galore. He also may have hidden an elusive treasure that is presently sought not only by Barbie and her crew, but by a would-be thief. The team must find the treasure and the thief before it's too late.

The user is in control as Barbie searches the resort, interrogates suspects, finds and deciphers clues, gathers tools, and attempts to solve the many puzzles that confront her. In addition to her sleuthing duties, Barbie must chase the suspect by boat, dune buggy, and hang glider. As always, Barbie is good at her job, but this mystery is not easily solved!

Detective Barbie 2 offers a modicum of problem solving opportunity. Students must collect and decipher clues, crack codes and make connections between clues and observed occurrences to draw conclusions about the mystery. Because the quest is interactive, the program also encourages users to question and think creatively.

Detective Barbie 2 offers an enormously popular heroine, great graphics and animation, and an intriguing (if a bit familiar sounding) storyline. Despite all of this, our girl testers did not rave about the program. They found the mystery too difficult to solve, and were frustrated by the fact that they knew clues were present but were unable to access them until the correct moment in the program progression. This constrained program evolution is especially hard on quick-witted girls who want to use all of their abilities to quickly solve the mystery, but are unable to do so. "I don't think they should show the green hand (indicates a clue is present) but then not let you see the clue," was one tester's comment. "It's not fun when you have to wait for things to happen."

Detective Barbie 2 installs without difficulty. DirectX 6.1 is required to run this program, and installed if needed.

Kids use the mouse to control Barbie's movements, a skill that improves with practice, but may initially march Barbie into numerous corners and ram her into a few walls. Locating (and more importantly, relocating) specific areas on the island can be difficult, especially for those who lack good spatial awareness. In addition, the program requires persistence, and even then users may run into seemingly insurmountable roadblocks. A cheat or hint file would be helpful -- after all, we all want to know whodunit!

Best for... / Bottom-Line


Much like its predecessor, Barbie Detective, The Vacation Mystery is a fun challenge for Barbie enthusiasts. It may prove too difficult, however, for young girls, and is definitely not recommended for those with short attention spans and/or in need of instant gratification.
See SuperKids' comparisons with other girls software titles, and the Buyers Guide for current market prices of this PC-only title.
PC: Windows 95/98, Multimedia PC Pentium 133 MHz or faster cpu, 40 MB hard drive space for program plus additional hard drive space for photos determined by user, 16 MB RAM, VGA monitor with 256 color graphic display, Quad-speed (4X) or faster CD-ROM, 16-bit Sound Blaster or 100% compatible sound card.

Reviewed on:

Pentium166 with 24MB and 12XCD
return to top of page
---


Questions or comments regarding this site? webmaster@superkids.com
Copyright © 1998-2023 Knowledge Share LLC. All rights reserved. Privacy Policy