free newsletter!

tell a friend!

contests

software
reviews
bestseller list
price survey
what's new
product support
search

educational tools
ask a scientist
math worksheets
vocabulary builders
hangman
iPhone/iPad apps
logic games
brain food

educational insights

feature articles

marketplace
iPhone/iPad apps
reading corner
movie corner

SuperKids home
about SuperKids
advertise!
humor
links
help


* * *

Promotions




* * *



all reviews > > > girls software
Detective Barbie

Mattel Media

Ages 5 and up
Rating Scale
5 = great, 1 = poor
Educational Value
3.5
Kid Appeal
3.8
Ease of Use
4.0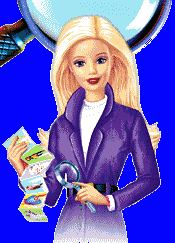 System Requirements

PC / Mac Price Survey

Product Support

Barbie is no longer just a pretty face. She can do any and everything, and to prove it, she and her good friend Becky have just completed a training course at 'Detective Academy.' The newly credentialed gumshoes immediately stumble upon a crime that Barbie calls "The Mystery of the Carnival Caper." Despite their excellent crime stopping abilities, the girls need help from the newest junior detective--guess who?

The fall carnival has come to town, and Barbie's pal Ken is in charge of the finances -- money which will be donated to charity. But when he volunteers to help the magician with her disappearing act, he disappears for good -- along with the charity money. Barbie and her partners must search the carnival for clues that might lead them to find Ken, the missing money and the person responsible for their inopportune departure.

The user controls Barbie's movements, as she saunters among the many carnival attractions. Clues appear in the form of green highlighted objects that can be photographed and placed in the 'Crime Computer'. In addition to clues, Barbie interviews carnival personnel (who double as prime suspects), and gathers tools that will allow her access to previously unavailable places (including chests, trunks and coffins large enough to hide an abducted Ken).

Combing the carnival for clues is definitely not all work and no play. There are many virtual rides, and taking is a requisite part of the search. At times a spooky figure clad in black appears and Barbie gives chase, jumping off the carousel, or twisting and turning at high speeds on the 'Crazy Slide Ride'. The suspect is elusive, however, and refuses to be apprehended until the right clues have been collected.

Despite the quest undertaken in this program, it provides very little opportunity for real problem- solving or intellectual development. At times, the user must understand the clues to benefit from their guidance, but in general they are totally predetermined and do not rely on the user to unravel their meanings.

Our young girl testers reported mixed feelings about this program. Although they loved the carnival scenes and impressive graphics: ". . .cool graphics on the rides, it's fun to play on them even if you can't solve the mystery!", they became frustrated by the fact that they were ultimately helpless to control the game's evolution. At times it seemed that they were going around in circles, waiting for something new to appear and allow the action to progress. Many gave up without solving the mystery, feeling disappointed by their failure but unwilling to invest additional time in what they considered a futile endeavor.

This program installs without difficulty on Windows 95. Set-up searches the system for DirectX 5.0 and installs it unless it is already present.

Barbie Detective is moderately easy to navigate. Kids use the mouse to control Barbie's movements, a skill that improves with practice but may initially march Barbie into numerous corners and ram her into a few walls. Locating specific rides and tents within the carnival can also be difficult, unfortunately there is no map to help the directionally challenged.

Best for... / Bottom-Line


Barbie fans who like mystery adventures will enjoy the challenge presented by this carnival caper. Be forewarned, however, that in this case, wit and wiles will not help uncover the criminal. To emerge winners girls must have persistence, patience, and good directional abilities.
See SuperKids' comparisons with other girls software titles, and the Buyers Guide for current market prices of the PC version.
PC: Windows 95 or higher, Multimedia PC Pentium 90 MHz or faster cpu, 40 MB hard drive space, 16 MB RAM, Color monitor with 256 color graphic display, Quad-speed or faster CD-ROM, 16-bit Sound Blaster or 100% compatible sound card and speakers.

Reviewed on:

Pentium166 with 48 MB and 12XCD
return to top of page
---


Questions or comments regarding this site? webmaster@superkids.com
Copyright © 1998-2023 Knowledge Share LLC. All rights reserved. Privacy Policy