free newsletter!

tell a friend!

contests

software
reviews
bestseller list
price survey
what's new
product support
search

educational tools
ask a scientist
math worksheets
vocabulary builders
hangman
iPhone/iPad apps
logic games
brain food

educational insights

feature articles

marketplace
iPhone/iPad apps
reading corner
movie corner

SuperKids home
about SuperKids
advertise!
humor
links
help


* * *

Promotions




* * *



all reviews > > > girls software
Rockett's Secret Invitation

Purple Moon

Ages 8 to 12
Rating Scale
5 = great, 1 = poor
Educational Value
3.5
Kid Appeal
4.0
Ease of Use
4.8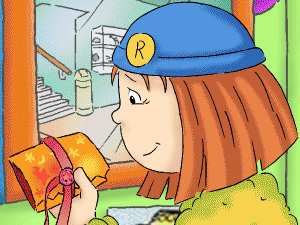 System Requirements

PC / Mac Price Survey

Product Support

The continuing saga that began with Rockett's New School and Rockett's Tricky Decision, continues in like manner with this latest installment, Rockett's Secret Invitation.

The school year is progressing, as are Rockett's relationships with new friends (and potential foes). Still seeking to break free of her 'new girl' persona, Rockett struggles with the daily decisions of life at Whistling Pines Jr. High. School work and home are seemingly stable for the artistic 8th grader, whose major dilemma seems to be choosing with whom to align herself. Should she seek precarious popularity with the 'in-crowd,' join the secret club currently extending a dubious invitation, or pursue the comfortable kind of friendship she experienced with best friend Meg at her previous school?

As with other titles in this series, the user chooses the manner in which the story unfolds. Character personalities are revealed via exploration of student lockers and their contents. What are Rockett's new acquaintances really feeling and with whom are they communicating? A peek at their personal journals can provide answers, or raise new, increasingly mysterious questions. In this case, snooping is a must.

As with other titles in this series, Rockett's Secret Invitation encourages girls to explore their feelings about friendship, school, and the future. It models both effective and ineffective ways of dealing with difficult situations, and allows the user to experience the different outcomes that can result from just one person's actions. At the same time it forces the student to empathize with diverse characters and to realize that, in the end, we're all very much the same.

Our girl reviewers enjoy this series and eagerly anticipate future installments. Many find the story's minor characters intriguing and hope to see them better developed in upcoming episodes.

Parent reviewers noted that the subject material is perfect for girls in the targeted age range. Whistling Pines comrades behave age-appropriately and are neither excessively precocious nor unrealistically immature.

Rockett's Secret Invitation installs without difficulty on Windows 95. Navigation is simple and clear, although some younger users reported having difficulty maneuvering their way around the 'Hidden Hallway'.

Best for... / Bottom-Line


Rockett and her entourage appeal to preteen girls who suddenly find themselves too old for dolls and too young for dating. They deal with the same issues that face the average 6th to 8th grade girl, questions of popularity, exclusivity, loyalty, and trust.
See SuperKids' comparisons with other girls software titles, and the Buyers Guide for current market prices of the PC and Mac versions.
PC: Windows 3.1, Windows 95, 486DX/66MHz or faster cpu, 10 MB hard drive space, 8 MB RAM, 16 MB for Windows 95 , SVGA graphics, Double-speed or faster CD-ROM, 16 bit Windows-compatible sound card

Mac: System 7.1 or higher, 68040/33 MHz or faster cpu, 10 MB hard drive space, 8 MB RAM, 256-color monitor, Double-speed or faster CD-ROM

Reviewed on:

PowerMac 6400/200 with 32MB and 8XCD
Pentium166 with 48MB and 12XCD
return to top of page
---


Questions or comments regarding this site? webmaster@superkids.com
Copyright © 1998-2023 Knowledge Share LLC. All rights reserved. Privacy Policy