free newsletter!

tell a friend!

contests

software
reviews
bestseller list
price survey
what's new
product support
search

educational tools
ask a scientist
math worksheets
vocabulary builders
hangman
iPhone/iPad apps
logic games
brain food

educational insights

feature articles

marketplace
iPhone/iPad apps
reading corner
movie corner

SuperKids home
about SuperKids
advertise!
humor
links
help


* * *

Promotions




* * *



all reviews > > > writing software
Inspiration Version 6

Inspiration Software Inc.

Ages 9 and up
Rating Scale
5 = great, 1 = poor
Educational Value
5.0
Appeal
4.0
Ease of Use
4.0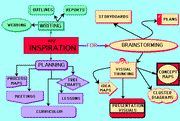 System Requirements

PC / Mac Price Survey

Product Support

Writing an organized paper or creating a persuasive presentation can be difficult for even the most intelligent of individuals. The reason is not lack of creativity, nor is it lack of verbal skills. Many individuals have difficulty organizing their thoughts. They know what they want to say, but cannot present it in a clear and logical manner. The result of their efforts is a jumble of thoughts and words.

Inspiration is designed to help students develop their ideas and organize their thinking by allowing them to create pictures of their ideas or concepts in the form of diagrams. Users are encouraged to play with ideas, to arrange them and group them, and to find and correct any gaps that may exist. Many types of visual diagrams can be created with the program, including concept maps, idea maps, webs and storyboards. Multiple toolbars allow students to point, click, type, and edit, creating pleasing looking diagrams with ease.

Inspiration also provides an outlining section to help students develop their ideas into organized written documents. In this section, or 'view', users input and edit as with word processing programs. Because the program is fully integrated, users can switch between 'views', converting diagrams to outlines, and outlines to diagrams.

This latest version of Inspiration includes many new options, including the ability to add URL hyperlinks to a document, expanded and enhanced symbol libraries, Internet graphic support allowing users to create symbols in .jpg and .gif formats, simplified graphics importing, animated, multicolor, and frame enhanced symbols, more templates, expanded Help support, a spell check button, user friendly default settings and more.

Inspiration is both a tool, aiding students in the development and organization of their thinking, and a teaching aid, demonstrating the value of webs, outlines and diagrams in preparing clear and concise written presentations. Its word-processing capabilities allow the user to play with concepts and ideas, re-prioritizing, re-conceptualizing, and rewording until the end result is optimal. SuperKids' teacher reviewers found that the program worked well as an instructional supplement. One sixth-grade English teacher remarked, "(students) enjoy using the program because they can rework their efforts, much as they edit their word-processing documents."

The primary appeal of Inspiration resides in the fact that it can facilitate a task that is often considered onerous. It helps students wade through those initial moments of total lack of idea organization. Rather than sit before a blank page or screen wondering where to begin students can immediately churn out ideas, inserting and deleting as the process progresses.

Our middle school and high school aged reviewers enthusiastically praised Inspiration. Its many tools are both complete and easy to use. "This program is fun!" commented SuperKids' testers, "It's a great brainstorming tool!"

Inspiration installs without a hitch. Users must enter their name, organization and valid registration number (found on the CD jacket) before using the program.

Our testers had no problem jumping in and using this program without guidance or instruction. To get the most out of the program, however, we recommend that new users read the included manual, which includes a series of mini-lessons on program use. In addition, a help "Tip of the Day" appears onscreen each time Inspiration is accessed (this can be turned off by unchecking a box).

Users who have an earlier version of Inspiration on their computers are advised that this version does not overwrite earlier versions. This enables users to keep custom templates created in earlier versions of the program. Once these templates and any custom symbol libraries that have been created are copied into the Inspiration 6 folders, the older version of the program can be uninstalled.

Best for... / Bottom-Line


Inspiration is recommended for older students and teachers who need help organizing their thoughts, whether for oral reports or written compositions. Students who are already competent in this area will appreciate the program's editing capabilities and professional looking results.
See SuperKids' comparisons with other writing software titles, and the Buyers Guide for current market prices of the PC and Mac versions.
PC: Windows 95,98 or Windows NT 4.0, 486 processor or higher, 5 MB hard drive space, 20 MB available for all symbols and Help, 8 MB RAM, VGA SuperVGA or other Windows compatible graphics card, CD-ROM drive,

Mac: System 7.0, 8.0 or higher, Macintosh or Power Macintosh, 5 MB hard drive space, 30 MB for all symbols and Help, 2 MB available RAM, 640 x 480 display, 16 colors or better, CD-ROM drive.

Reviewed on:

Pentium166 with 24MB and 12XCD
return to top of page
---


Questions or comments regarding this site? webmaster@superkids.com
Copyright © 1998-2022 Knowledge Share LLC. All rights reserved. Privacy Policy