free newsletter!

tell a friend!

contests

software
reviews
bestseller list
price survey
what's new
product support
search

educational tools
ask a scientist
math worksheets
vocabulary builders
hangman
iPhone/iPad apps
logic games
brain food

educational insights

feature articles

marketplace
iPhone/iPad apps
reading corner
movie corner

SuperKids home
about SuperKids
advertise!
humor
links
help


* * *

Promotions




* * *



all reviews > > > spelling software
Spelling Blaster

Knowledge Adventure

Ages 6 to 9
Rating Scale
5 = great, 1 = poor
Educational Value
4.8
Kid Appeal
4.6
Ease of Use
4.9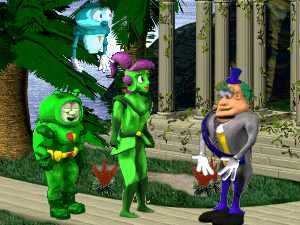 System Requirements

PC / Mac Price Survey

Product Support

The Blaster crew is back in a new adventure, Spelling Blaster, with games, puzzles and drills that will transform kids into spelling bee champions. Blasternaut, Galactic Commander and Spot are vacationing on the Planet Islandia when they receive an urgent missive from the planet's mayor. Ancient books are being stolen by a strange race of mumbling creatures from the planet "Nonsense." Mumblers can only grunt and mumble, and are stealing the books in an effort to learn how to communicate with each other.

The user must accompany one of the Blasterpals on a mission to identify the book thief. This is accomplished by successfully completing challenges that earn the duo a clue leading to the guilty Mumbler. Activities include rebuilding bridges, navigating underground tunnels, and climbing a volcano. Mission completion is rewarded with a certificate, while word list mastery earns the user a storybook with words from the mastered lists.

Not only does Spelling Blaster contain over 1,700 words organized in over 140 spelling lists, but it also provides word-appropriate storybooks as rewards for achieving mastery of the spelling lists. This incentive highlights the connection between spelling and reading, illustrating for the child the need for spelling precision as an integral part of the written communication process.

Spelling Blaster activities ask kids to recognize misspelled words, fill in missing letters to complete words, use context clues to complete sentences, and recognize that words have common spelling patterns. They also give students experience in proof reading and editing misspelled words. Spelling Blaster's large reserve of words ensures that the child will be experiencing new words each time s/he plays the game, and a built-in word editor allows parents and teachers to add words as they see fit.

Our parent and teacher reviewers were impressed by the "Spell Track" feature, which records the child's mistakes throughout the game. "I look at Spell Track from time to time so I can tell whether or not (my son) is really benefiting from the program," said one parent. "It's great to see that he has steadily improved his spelling accuracy."

Input was mixed on program appeal, and largely tied to the user's arcade-game skills. Those more experienced at navigating through mazes while dodging pesky creatures were able to concentrate their brain power on the spelling portion of the games. Less coordinated reviewers were frustrated by the fact that although they could spell the words they frequently weren't fast enough to achieve success and earn a clue. Fortunately the program includes a variety of activity formats, so kids lacking 'fast-twitch' gamer ability can still be winners.

Approval of the program theme and the Blaster characters also received inconsistent marks. Some kids were disenchanted by the intergalactic theme, and found the characters unexciting and the adventure lacking in pizzazz. All agreed, however, that the program improved their spelling skills, and contains plenty to challenge even talented spellers.

Spelling Blaster installs easily on Windows 95, concurrently installing two Quick Time files as well as Acrobat Reader 3.0.

Program navigation is simple and straightforward. SuperKids' reviewers were especially pleased by the ease with which a user can specify preferred word lists, a feature that customizes the program rather than relying on general levels of play to dictate the words that will be accessed.

Best for... / Bottom-Line


With its arcade-like games, Spelling Blaster might frustrate less manually adept kids who know the answers but can't easily manipulate the keyboard keys. It is recommended for young gamers who like futuristic themes, need spelling drill activities, and want a program that provides diverse learning levels.
See SuperKids' comparisons with other spelling software titles, and the Buyers Guide for current market prices of the PC and Mac versions.
PC: Windows 3.1 or higher, 486/66MHz or faster cpu, 16 MB RAM, 256-color SVGA graphics, Quad-speed or faster CD-ROM, Windows-compatible sound card.

Mac: System 7.5.1 or higher, Power Mac, 16 MB RAM, 256 color monitor, Quad-speed or faster CD-ROM .

Reviewed on:

PowerMac 6400/200 with 32MB and 8XCD
Pentium166 with 24MB and 12XCD
return to top of page
---


Questions or comments regarding this site? webmaster@superkids.com
Copyright © 1998-2023 Knowledge Share LLC. All rights reserved. Privacy Policy