free newsletter!

tell a friend!

contests

software
reviews
bestseller list
price survey
what's new
product support
search

educational tools
ask a scientist
math worksheets
vocabulary builders
hangman
iPhone/iPad apps
logic games
brain food

educational insights

feature articles

marketplace
iPhone/iPad apps
reading corner
movie corner

SuperKids home
about SuperKids
advertise!
humor
links
help


* * *

Promotions




* * *



all reviews > > > spelling software
JumpStart Spelling

Knowledge Adventure

Ages 4 to 9
Rating Scale
5 = great, 1 = poor
Educational Value
4.0
Kid Appeal
4.3
Ease of Use
4.7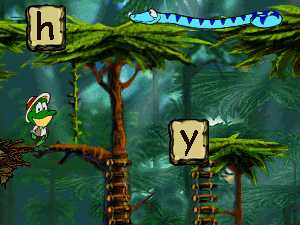 System Requirements

PC / Mac Price Survey

Product Support

This attractively animated, low-priced program offers spelling drills for kids ranging from preschool through 3rd grade, in the context of an adventure story.

JumpStart Spelling commences as CJ the frog and his loyal companion Edison, an Irish idiom spouting firefly, search the jungle for the fossil remains of CJís ancient ancestors. Suddenly a Tyrannosaurus Rex bellows and Edison is blown across the jungle. There, he is captured by a family of cave people who have recently grasped the concept of fire, and believe that Edisonís luminescence is it. CJ must brave the jungle hazards to find his companion, and he needs help!

JumpStart Spelling concentrates on repeated drills to perfect spelling skills. Two spelling activities earn the user the points needed to bring CJ closer to Edisonís rescue. In the first, CJ, (led by Perry, the pterodactyl) finds himself in dangerous prehistoric settings where he can move forward only after the user correctly spells required words. To do this the child must catch letters as they fall from above to spell the words on stone tablets. At the easier play-levels, the tablet is illustrated with a picture to match the written word. At higher levels, it includes a sentence containing the featured spelling word. The second activity is the bonus round. CJ says a word, and the child must choose the dinosaur holding the correctly spelled word.

The JumpStart lineís "Adaptive Learning Technology" allows the program to automatically adjust the level of play to match the proficiency of the user. Thus, whether a child is having difficulty with a particular task or finding it too easy, the program self-corrects, ostensibly avoiding user frustration.

Although our kid testers were delighted with JumpStart Spelling's detailed animated story, older users were disappointed by the lack of activity variety. "I really liked this program in the beginning," was one 3rd-graderís comment, "itís kind of like watching a cartoon. But you just do the same two things over and over, and it starts to get boring." One parent added: "This program would be good for a few uses in my home -- then my kids would move on to something else." Not only is there repetition in the activity portion of the program, but in the words lists as well.

Knowledge Adventure explains that the limited variety of activities in this program is a result of their desire to offer a very low-cost program ($9.95 suggested retail price), while reinforcing specific skills.

Parents of younger reviewers seemed less bothered by the simplicity of the task-related part of the program: "My five year-old prefers to do the same activity over and over," related one mother, "she feels overwhelmed by too many different games."

JumpStart Spelling installs without difficulty on Windows 95.

Best for... / Bottom-Line


JumpStart Spelling works best for kids who need engaging stories to coax them into skill-building activities, and donít mind repeating the same task over and over. It is not recommended for older, more sophisticated users who will quickly tire of the programís inherent monotony.
See SuperKids' comparisons with other spelling software titles, and the Buyers Guide for current market prices of the PC and Mac versions.
PC: Windows 95 or later, 486DX2/66 or faster cpu, 15 MB available hard drive space, 16 MB RAM, SVGA 256 color graphics adapter, Quad-speed or faster CD-ROM, MPC-compatible sound card.

Mac: System 7.5 or higher, Power PC processor, 15 MB available hard drive space, 16 MB RAM, 256 color graphics adapter, Quad-speed or faster CD-ROM

Reviewed on:

PowerMac 6400/200 with 32MB and 8XCD
Pentium166 with 24MB and 12XCD
return to top of page
---


Questions or comments regarding this site? webmaster@superkids.com
Copyright © 1998-2022 Knowledge Share LLC. All rights reserved. Privacy Policy