free newsletter!

tell a friend!

contests

software
reviews
bestseller list
price survey
what's new
product support
search

educational tools
ask a scientist
math worksheets
vocabulary builders
hangman
iPhone/iPad apps
logic games
brain food

educational insights

feature articles

marketplace
iPhone/iPad apps
reading corner
movie corner

SuperKids home
about SuperKids
advertise!
humor
links
help


* * *

Promotions




* * *



all reviews > > > spelling software
Curious George Reads, Writes, & Spells for Grades 1 & 2

Houghton Mifflin Interactive

Ages 6 to 8
Rating Scale
5 = great, 1 = poor
Educational Value
4.5
Kid Appeal
4.5
Ease of Use
4.5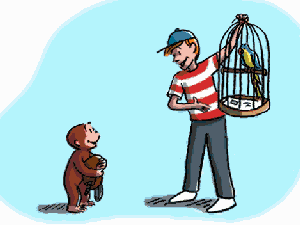 System Requirements

PC / Mac Price Survey

Product Support

Curious George Reads, Writes, & Spells is the latest title in the Houghton Mifflin Young Readers' series of programs. Users are treated to a familiar character, in a familiar storybook style. Classic illustrated pages flip by on the computer screen, with an ongoing narration by the storyteller.

This Curious George story finds our simian hero repeatedly getting into trouble, then saving the day while rectifying his wrongs commited in the pursuit of curiousity. Sound familiar?

Each chapter contains an educational drill, in one of several familiar computer game styles -- Pac-man style mazes, Mario-style obstacle avoidance -- as well as several more typical educational computing drills -- fill in the blank from multiple choices, and rearrange the letters. Surprisingly, the majority of these drills are focused on spelling, rather than reading and writing.

Curious George Reads, Writes, & Spells is a solid spelling practice program. With multiple, settable difficulty levels, and a large number of well-conceived drills, any child who works through this program will improve his/her spelling proficency.

That said, our kid testers (and their parents) noted several concerns with the program. Our editorial team's greatest dismay was that "the program misses an opportunity to further develop users' reading skills, by providing a very limited amount of on-screen text." We were surprised that the storybook's narration was not accompanied by onscreen text, except in two or three fill-in-the-blank drills. The rest of the time, the screen had simple, still illustrations, while the story was being told.

Several parents noted an additional concern. "Many of the spelling exercises required quick hand-eye coordination that my daughter doesn't yet have. She got frustrated." In fact, one second-grader told us, "I can't do it! It's too hard!" Yet she knew the answers.

SuperKids' kid testers liked Curious George Reads, Writes, & Spells. When asked what they liked best, most mentioned the story itself -- they honestly like Curious George. But our parent reviewers felt that their kids seemed to enjoy the educational drills, until or unless they were frustrated by the "twitch" games' speed.

Curious George Reads, Writes, & Spells installs fairly easily on Macs, although it takes some time to initially load all the QuickTime accessory files. We had several reports of machine lock-ups on Power Macs, but we were never able to pin down the cause. Our users also reported some confusion as they progressed through the various drills, because some used the mouse, while others required the use of the arrow cursor keys on the keyboard.

Best for... / Bottom-Line


Curious George Reads, Writes, & Spells is best suited for a child who has begun to sound-out words, and can easily identify letters. Good fine-motor skills are helpful.
See SuperKids' comparisons with other spelling software titles, and the Buyers Guide for current market prices of the PC and Mac versions.
PC: Windows 3.1, Win95, 486/66 or faster cpu, 10 MB hard drive space, 12 MB RAM, SVGA 256-color display, 2X or faster CD-ROM, MPC2-compatible sound card (22KHz, 16 bit), mouse

Mac: System 7.1 or higher, 68040 or faster cpu, 10 MB hard drive space, 12 MB RAM, 256 color display, 2X or faster CD-ROM

Reviewed on:

PowerMac 6400/200 with 32MB and 8XCD
PpwerMac 6100/60 with 32 MB and 2XCD
return to top of page
---


Questions or comments regarding this site? webmaster@superkids.com
Copyright © 1998-2022 Knowledge Share LLC. All rights reserved. Privacy Policy