free newsletter!

tell a friend!

contests

software
reviews
bestseller list
price survey
what's new
product support
search

educational tools
ask a scientist
math worksheets
vocabulary builders
hangman
iPhone/iPad apps
logic games
brain food

educational insights

feature articles

marketplace
iPhone/iPad apps
reading corner
movie corner

SuperKids home
about SuperKids
advertise!
humor
links
help


* * *

Promotions




* * *



all reviews > > > science software
Arty the Part-Time Astronaut

3 Pounds Press

Ages 7 to 12
Rating Scale
5 = great, 1 = poor
Educational Value
4.3
Kid Appeal
4.0
Ease of Use
5.0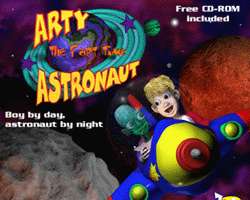 System Requirements

PC / Mac Price Survey

Product Support

Arty the Part-Time Astronaut consists of a paperback book and accompanying CD-ROM. The book introduces Arty, an average boy who, while out observing the night sky, happens to see a falling star collide with Earth. Rushing to the crater where the star landed, Arty is surprised to encounter a crashed spaceship. The pilot of the ship, Guplo, is a youth from the planet Krandu who has become separated from his vacationing family. He needs to find a new spaceship and locate his family as quickly as possible.

Fortunately, Arty is resourceful and adventurous, and soon the two are rocketing through the galaxy, stopping on each of the planets to search for Guplo's family. Despite the brevity of their visits, they are able to learn a thing or two about each of the planets, and they are more than willing to share their discoveries with interested students.

The CD itself takes the user on an entirely separate adventure. Arty and Guplo have apparently become frequent space travelers, and invite the user to join them. Exiting Arty's room through an open window, the user boards Guplo's spaceship and takes over the controls. S/he can choose to 'travel' to the planets, play a game, or log onto the associated website at www.artyastro.com.

Arty the Part-Time Astronaut includes a number of interesting facts and mini-activities revolving around the solar system. The book provides information on each of the planets along with other pertinent factoids that allow students to better understand the subject matter (i.e., what is light speed, what is a crater, etc.) The CD-ROM takes the learning a step farther, with a simple but fun-to-use connection to each of the planets where kids can learn about the planets' diameters, temperatures, distances from the sun, moons, places in mythology and more.

The 'games' section lets kids play with interesting comparisons such as their age and weight on each of the planets, and how long it would take to travel to each planet by spaceship -- traveling at a speed of 18,000 mph, and by car -- traveling at a speed of 70 mph. A "Space Smarts" section includes quizzes about the material presented in the book and CD, and 3 arcade-type games give kids an entertaining break from their studies.

Although they enjoyed book's theme and characters, our testers were not terribly impressed with the overall story, and reported that it lacks the intrigue needed to maintain their interest. They did, however, give positive feedback about the software program, which provides plenty of interesting information about our solar system in a fun and easy-to-use format.

Our testers especially liked the program's 'games' section, through which they were able to make relative age, weight and distance computations, test their subject knowledge, and even play a few loosely related fast-twitch muscle type games. The hands-down favorite of these games, Jumpshot Robot, let's the user control a basket-throwing robot in a challenging game of strategy and coordination.

Arty the Part-Time Astronaut runs from the CD, so no installation is required. Program navigation is straightforward, and the activities and games are not complex.

Best for... / Bottom-Line


This combined book/CD-ROM offers a nice introduction to the solar system along with associated fun and games.
See SuperKids' comparisons with other science software titles, and the Buyers Guide for current market prices of the PC and Mac versions.
PC: Windows 98/95 or NT 4.0, Pentium 133 or faster cpu, 8 MB RAM, CD-ROM drive,

Mac: System 7.5 or higher, Power Macintosh or faster cpu, 32 MB RAM, CD-ROM drive.

Reviewed on:

PowerMac 6400/200 with 32MB and 8XCD
Pentium166 with 24MB and 12XCD
return to top of page
---


Questions or comments regarding this site? webmaster@superkids.com
Copyright © 1998-2023 Knowledge Share LLC. All rights reserved. Privacy Policy