free newsletter!

tell a friend!

contests

software
reviews
bestseller list
price survey
what's new
product support
search

educational tools
ask a scientist
math worksheets
vocabulary builders
hangman
iPhone/iPad apps
logic games
brain food

educational insights

feature articles

marketplace
iPhone/iPad apps
reading corner
movie corner

SuperKids home
about SuperKids
advertise!
humor
links
help


* * *

Promotions




* * *



all reviews > > > science software
Fisher Price Outdoor Adventures Ranger Trail

The Learning Company

Ages 4 to 7
Rating Scale
5 = great, 1 = poor
Educational Value
4.0
Kid Appeal
4.0
Ease of Use
4.8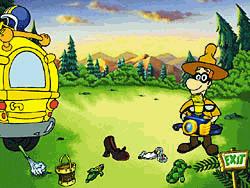 System Requirements

PC / Mac Price Survey

Product Support

This program takes kids on an outdoor adventure to Camp Wonderoo where they endeavor to become Junior Rangers. With goofy Ranger Rudy as their guide, kids explore the great outdoors, collecting specimens, taking photos, earning special patches, and with cunning and luck, even spotting the evasive camp mascot the 'Wonderoo'.

Outdoor Adventures Ranger Trail provides an early introduction to the exploration and discovery techniques used by field scientists. Kids are encouraged to do plenty of virtual prodding, poking, uncovering and discovering, and are rewarded for their efforts with tidbits of information about the plants or animals they encounter.

In addition, kids are exposed to astronomy as they 'connect the stars' to discover major constellations, learn campfire songs in a fireside sing-a-long, practice their mouse skills in a user-controlled river race, try their hand at cave painting using art tools, and hone their memory skills in a matching game. All activities are simple enough for young users to master without frustration.

Comments from our kid evaluators were varied for this product. In general, kids liked the program's graphics and storyline. Although the story characters themselves were not highly rated, the animals encountered on the Nature Trail received enthusiastic reviews. "I loved the baby animals," commented one 1st grade tester, "They were so cute and loveable."

The activities themselves were thought to be uninspired, in particular the tedious river race and the much overused match game activity. In addition, the big build-up to spotting the mysterious Wonderoo resulted in nothing more than a printable certificate once the feat was accomplished. "We expected more hoopla," noted one parent tester.

Fisher Price Ranger Trail installs without a problem. The program itself is fairly intuitive to use, and the on-screen characters do a good job of explaining when and how to proceed, and keeping the user informed on his or her progress.

Our testers' only navigational complaint related to the frequency and longevity of the transition screen which appears when users are moving between different sections of the program. Younger users in particular became frustrated by this break in the action and sometimes lost interest in the program altogether during the delay these transitions necessitated.

Best for... / Bottom-Line


Young nature lovers will enjoy this simple yet informative program. Although activities are a bit stale, the adventure itself is appealing, and the forest animals have charm enough to carry the program alone.
See SuperKids' comparisons with other science software titles, and the Buyers Guide for current market prices of the PC and Mac versions.
PC: Windows 95 or higher, 486DX, 66 MHz or faster cpu, 14 MB hard drive space, 16 MB RAM, 256 color SVGA display, Quad-speed or faster CD-ROM, Windows compatible sound card.

Mac: System 7.5.1 or better, Power PC or faster cpu, 14 MB hard drive space, 16 MB RAM, 256 color display, Quad-speed or faster CD-ROM.

Reviewed on:

PowerMac 6400/200 with 32MB and 8XCD
Pentium 166 with 48MB and 12XCD
return to top of page
---


Questions or comments regarding this site? webmaster@superkids.com
Copyright © 1998-2022 Knowledge Share LLC. All rights reserved. Privacy Policy