free newsletter!

tell a friend!

contests

software
reviews
bestseller list
price survey
what's new
product support
search

educational tools
ask a scientist
math worksheets
vocabulary builders
hangman
iPhone/iPad apps
logic games
brain food

educational insights

feature articles

marketplace
iPhone/iPad apps
reading corner
movie corner

SuperKids home
about SuperKids
advertise!
humor
links
help


* * *

Promotions




* * *



all reviews > > > science software
ConnecTricity Power Park

NSP Company

Ages 7 and up
Rating Scale
5 = great, 1 = poor
Educational Value
4.3
Kid Appeal
3.5
Ease of Use
4.0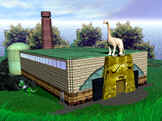 System Requirements

PC / Mac Price Survey

Product Support

ConnnecTricity Power Park takes students to an abandoned amusement park where, with the help of a surly dinosaur, T-Bones, and a gentle hawk, Aurora, they work to develop power sources to get the park running again.

Kids visit six different power plants, where they solve puzzles that inform how each plant produces power. In addition to teaching the basics about such power sources as hydro-electric, nuclear, coal, solar, wind, and natural gas, the program looks at the advantages and disadvantages of each, including availability, cost, and environmental impact. It also encourages kids to consider long-term costs of the various forms of energy. For example, their impact on wildlife (Aurora lost her husband Horace because of the use of DDT), air quality, the natural beauty of the land, noise pollution etc.

Throughout the program, kids are challenged to make important decisions about energy conservation, and rewarded with an energy score and special tokens that can be cashed in at the arcade. Here kids play energy-themed arcade games.

ConnnecTricity Power Park helps kids develop a rudimentary understanding of energy and power. It offers information in a variety of ways, through text, games, puzzles, and hands-on decision making.

Each power plant includes a basic puzzle which takes kids through the five main steps used to create that form of power. Kids place these steps in the appropriate order to power up the plant. Once this is accomplished, clicking on different items in the newly running power plant provides additional information about how the plant works.

Our testers were concerned about the targeted age-range for this program. They noted that while much of the information seems most appropriate for slightly older children (upper elementary to middle school age), the dinosaur and hawk characters are better suited to young students. Because of this, the program received only average scores for appeal. In addition, our reviewers noted that while they might enjoy using this program as part of a classroom curriculum, they would never choose to use it for at home enjoyment.

ConnecTricity Power Park runs from the CD-ROM. QuickTime is required and can be installed from the CD.

Program navigation is fairly simple, however it is, at times, difficult to know exactly what is expected of the user. T-Bones and Aurora attempt to guide the user via special screens that pop up from time to time, but their help is cryptic and leaves users uncertain about how to proceed.

Best for... / Bottom-Line


ConnnecTricity Power Park presents information about energy, energy conservation and the importance of preserving the environment, all the while making clear the association of the three. It works nicely as part of a classroom unit on energy and power sources.
See SuperKids' comparisons with other science software titles, and the Buyers Guide for current market prices of the PC and Mac versions.
PC: Windows 3.1, Windows 95/98 and NT, 486/50 or faster cpu, 16 MB RAM, 640 x 480 resolution, 256 color mode (thousands of colors recommended), Double speed or faster CD-ROM, SoundBlaster (or compatible) audio card, QuickTime® 2.X (included on the CD).

Mac: System 7.1 or later, 33 MHz or faster cpu, 15 MB RAM, 640 x 480 resolution, Double speed or faster CD-ROM, Sound Manager 3.X or newer.

Reviewed on:

Pentium266 with 24MB and 12XCD
return to top of page
---


Questions or comments regarding this site? webmaster@superkids.com
Copyright © 1998-2023 Knowledge Share LLC. All rights reserved. Privacy Policy