free newsletter!

tell a friend!

contests

software
reviews
bestseller list
price survey
what's new
product support
search

educational tools
ask a scientist
math worksheets
vocabulary builders
hangman
iPhone/iPad apps
logic games
brain food

educational insights

feature articles

marketplace
iPhone/iPad apps
reading corner
movie corner

SuperKids home
about SuperKids
advertise!
humor
links
help


* * *

Promotions




* * *



all reviews > > > science software
Scholastic's The Magic School Bus Explores the World of Animals

Microsoft

Ages 6 to 10
Rating Scale
5 = great, 1 = poor
Educational Value
5.0
Kid Appeal
4.5
Ease of Use
4.5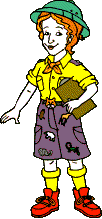 System Requirements

PC / Mac Price Survey

Product Support

This newest title in the Scholastic's Magic School Bus series takes kids on a virtual field trip to seven animal habitats around the world. Led by the unconventional Ms. Frizzle and her class of young scientists, users attempt to find missing animals and return them to their correct habitats. Along the way they enjoy multimedia reports about different animal species, learn fascinating animal facts, play games and explore the world of animals through intriguing activities.

Learning abounds in this delightful program, where unusual animals literally come to life for students. Each habitat features a main screen filled with indigenous plants and animals that can be clicked-on to obtain useful factoids. A toolbox in the lower portion of the screen contains a magnifying glass to view and learn about tiny animals, a microphone for hearing animal sounds, the'bono-scope', to see animal skeletons (which can also be pieced together in the puzzle activity), and a net for identifying and capturing misplaced animals. Once captured, users specify correct habitats to rescue the animals and earn printable certificates.

Habitat screens additionally offer related games and activities that are fun and informative, and a colorforms-like 'Eco-Poster' which kids decorate with animal and character stamps.

When users tire of a specific location, they re-board the Magic Schoolbus. From here they can travel to a new and entirely different animal habitat, visit the back of the bus to freely explore the program's 15 games and activities, or learn fun facts presented by Weird Owl Factovitch. Also accessible from the Schoolbus is a closed-captioning option for hearing impaired students.

Most kids love animals and enjoy learning about them. Add arcade-like games, an open exploration section, and a quest (for goal-oriented users), and the result is a winning program that succeeds in teaching without looking like school-work.

"The activities in the back of the bus are the best!" was one SuperKids tester's comment. Particular hits included the Adapt-o-Matic where animals are relocated and adaptations observed, 'Scat Sound Track' where kids match animal scat, sounds and tracks with the correct animals, and 'Swamp Things' which asks users to help Arnold (a frog-kid) avoid snapping turtles as he lunches on flies.

The Magic School Bus Explores the World of Animals installed without difficulty in our test machines. Program navigation is simple, and little if any parent help is needed. Younger kid testers complained, however, that they were frustrated by some of the activities, noting that fast-twitch, arcade skills are required to succeed.

Best for... / Bottom-Line


Filled with seemingly endless animal facts, amusing games, and informative hands-on activities, this program is sure to please (and educate) any young animal lover.
See SuperKids' comparisons with other science software titles, and the Buyers Guide for current market prices of this PC-only program.
PC: Windows 95 or later, or Windows NT Workstation 4.0 or later, Multimedia PC with a Pentium or higher processor, 15 MB hard drive space (220 MB recommended), 16 MB RAM, Super VGA, 256-color monitor, Quad-speed or faster CD-ROM, 16-bit Windows-compatible sound card.

Reviewed on:

Pentium166 with 48 MB and 12XCD
return to top of page
---


Questions or comments regarding this site? webmaster@superkids.com
Copyright © 1998-2023 Knowledge Share LLC. All rights reserved. Privacy Policy