free newsletter!

tell a friend!

contests

software
reviews
bestseller list
price survey
what's new
product support
search

educational tools
ask a scientist
math worksheets
vocabulary builders
hangman
iPhone/iPad apps
logic games
brain food

educational insights

feature articles

marketplace
iPhone/iPad apps
reading corner
movie corner

SuperKids home
about SuperKids
advertise!
humor
links
help


* * *

Promotions




* * *



all reviews > > > science software
I Love Science

DK Multimedia

Ages 7 to 11
Rating Scale
5 = great, 1 = poor
Educational Value
5.0
Kid Appeal
4.5
Ease of Use
4.5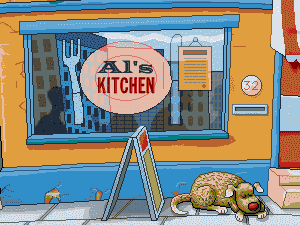 System Requirements

PC / Mac Price Survey

Product Support

Science instruction has come a long way in the past few decades, and perhaps thatís the reason kids no longer feel the need to Ďhateí the subject. Teachers routinely involve kids in interesting, hands-on experimentation, instead of simply presenting it through confusing, overly-technical lectures. I Love Science promotes this new, enlightened method of teaching science. It presents a huge variety of science topics, each with a virtual hands-on experiment that makes the subject come to life for the student.

Set in three locales, I Love Science features virtual hosts who enthusiastically share their favorite science facts and concepts with their audience. The southern tomboy, Mo, takes the user to her workshop to delve into the world of physical science, including forces, electricity, light, sound and heat. Al, the charming Brit, welcomes the user into his kitchen, where he not only cooks with passion, but he also enjoys sorting, testing, changing and separating matter. And Rosie shares the science of life from her treehouse, investigating the human body, animals, plants and the environment. Each guide is uniquely adorable, and so true to character that one must assume they are patterned after real-life scientists.

I Love Science presents information in a variety of ways. At each venue, the student accesses a book separated into numerous chapters. Each chapter is further broken down into many different subtopics. The student chooses three of these subtopics to begin with. This done, the book is opened and the quest for knowledge begins.

Topics are all structured similarly; pages contain few paragraphs of written text, in which certain words are highlighted. When the student clicks on a highlighted word, a new text box opens up with a definition of that word. In addition to text, each topic page includes an illustration, a "Did You Know?" button which also opens up a new text box including an interesting factoid on the current topic, and finally, a "Play" button which leads the user to the experimentation and drill section of the program.

Experiments are simple and quickly completed. They require user participation - for example, the user may be asked to move or connect objects in some way so as to observe their effect on each other. Once the experiment is completed, the user is asked five multiple choice questions. Each correct answer fills in one of five stars.

In addition to these activities, bonus activities earn kids extra stars. At the end of each three topic lesson, the user plays a summary game that combines fast twitch ("game") skills, with answering review questions. If the student succeeds at this activity, s/he earns a printable, away-from-the-computer experiment, and a certificate that specifies the total number of stars earned thus far and in which subjects they have been earned. This certificate can be used by parents and teachers to track the progress of each user.

Although our kid testers werenít initially impressed by I Love Science's main characters, they quickly reversed their opinions. In particular, they raved about Al with his proper British accent and laughable terminology. Our testers liked the activities as well, which they found challenging, but not overly difficult. Because of this, rewards were numerous.

Teachers commended the program on its wide variety of subject material. "Our students seem to get a lot of additional input in the life sciences, but very little in the physical sciences," was one teacherís comment. "This program provides an excellent overview of the subject matter."

I Love Science installed easily on our test machines. It requires Apple QuickTime and includes version 2.1.2. Those SuperKids testers who had a more advanced version of QuickTime already installed on their machines were able to bypass this installation without a problem.

Program navigation is intuitive. Adjustable options include volume control, speed of games and amount of animation, brightness of screen, and an option to change the way the mouse is used to pick up objects. Experiments are explained through text and narration, and our testers found directions easy to understand and simple to follow.

Best for... / Bottom-Line


Itís not hard to love science when itís presented through this exceptional program. With so much to be investigated and explored I Love Science is a good bet for summer (or anytime) learning.
See SuperKids' comparisons with other science software titles, and the Buyers Guide for current market prices of the PC and the Mac versions.
PC: Windows 3.1x, 95 or 98, 486DX/33 MHz or faster cpu, 20 MB hard drive space, 8 MB RAM for Windows 3.1, 12 MB for Windows 95 and 16 MB for Windows 98, 640 x 480 pixels, 256 color display, Double-speed or faster CD-ROM, 8-bit sound card.

Mac: System 7.01 or higher, 68LC040 25 MHz or faster cpu, 20 MB hard drive space, 8 MB RAM (12 MB recommended for Systems 8.0+), 640 x 480 pixels, 256 color display, Double-speed or faster CD-ROM, 8-bit audio.

Reviewed on:

PowerMac 6400/200 with 32MB and 8XCD
Pentium166 with 24MB and 12XCD
return to top of page
---


Questions or comments regarding this site? webmaster@superkids.com
Copyright © 1998-2023 Knowledge Share LLC. All rights reserved. Privacy Policy