free newsletter!

tell a friend!

contests

software
reviews
bestseller list
price survey
what's new
product support
search

educational tools
ask a scientist
math worksheets
vocabulary builders
hangman
iPhone/iPad apps
logic games
brain food

educational insights

feature articles

marketplace
iPhone/iPad apps
reading corner
movie corner

SuperKids home
about SuperKids
advertise!
humor
links
help


* * *

Promotions




* * *



all reviews > > > science software
Fun with Science

VTech Soft

Ages 7 to 12
Rating Scale
5 = great, 1 = poor
Educational Value
5.0
Kid Appeal
4.5
Ease of Use
4.8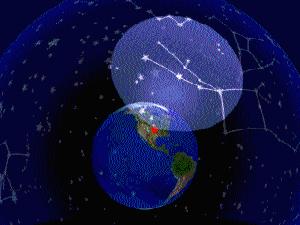 System Requirements

PC / Mac Price Survey

Product Support

Fun with Science is a set of six multimedia CD-ROMs that explore many aspects of the world of science. Individually entitled: "Inventions to Mention", "Stories in the Sky", "Take Flight", That's Earthshaking!", "That's History", and "Get the Message", the CDs focus on Discovery, Space Exploration, Air Travel, Earth Sciences, The Past, and Communication respectively.

The disks resemble an "Eyewitness" book in their composition. Each contains an introduction to its subject, and a number of distinct sections that explore the material in a variety of ways and from different perspectives. "Inventions to Mention", for example, features a contraption or 'mousetrap' making activity, a quest or adventure section, a 'how things work' section, an interactive comic book section, and a section that looks into how our lives have been changed through the years by simple inventions. In addition, each disk includes a 'Scrapbook', which contains the program's resource material in the form of detailed descriptions, helpful explanations, and interesting facts.

Fun With Science uses many different methods to peek users' interest and thereby impart information. Each disk contains a combination of animation, illustrations, text, narration, activities, and videos. Information is neatly arranged by topic, so that a child can explore each CD extensively before exhausting its novelty.

Although much of the actual information is presented in small text boxes that children must read themselves, certain words are highlighted, and, when clicked, provide a spoken definition. The program also contains diagrams, charts and certificates that can be personalized and printed.

If they can be properly hooked, kids typically enjoy learning about science. It surrounds them -- part of the sky they view, the cars they ride in, the technology they enjoy. Fun with Science does an admirable job of living up to its name and proving that learning about science needn't be dull. It does this in many ways: by drawing on children's interests (like baseball for the activity "Interplanetary League"), by stimulating curiosity with live-action videos (Our kid testers unanimously agreed: "The videos are the greatest!"), and, at times, by becoming downright silly (a silent movie clip of Dr. Jekyll drinking his potion is used as an example of the consequences of drinking unpurified water).

Each of the six CD-ROMs must be installed separately. This accomplished, program navigation is simple and self-explanatory.

Our testers' only complaint about the program was the fact that it comes packaged in a large cardboard frame with six slots to hold the disks. Parents noted that this made it hard to store them with other software programs which are traditionally packaged in individual cardboard sleeves or CD jewel cases.

Best for... / Bottom-Line


This six CD set offers an inspiring overview of a number of fields of study that fall under the broader category 'Science'. Because of its reference-like aspects, it makes a nice 'coffee table' program, one to have available for those times when hands-on learning and exploration is desired.
See SuperKids' comparisons with other science software titles, and the Buyers Guide for current market prices of this PC-only program.
PC: Windows 3.1 or later, 486DX-33MHz or faster cpu, 1 MB hard drive space, 8 MB RAM, 256 colors/SVGA display, Double-speed or faster CD-ROM, Sound Blaster 8-bit compatible sound card.

Reviewed on:

Pentium166 with 24MB and 12XCD
return to top of page
---


Questions or comments regarding this site? webmaster@superkids.com
Copyright © 1998-2023 Knowledge Share LLC. All rights reserved. Privacy Policy