free newsletter!

tell a friend!

contests

software
reviews
bestseller list
price survey
what's new
product support
search

educational tools
ask a scientist
math worksheets
vocabulary builders
hangman
iPhone/iPad apps
logic games
brain food

educational insights

feature articles

marketplace
iPhone/iPad apps
reading corner
movie corner

SuperKids home
about SuperKids
advertise!
humor
links
help


* * *

Promotions




* * *



all reviews > > > science software / problem solving software
Star Wars DroidWorks

Lucas Learning

Ages 10 and up
Rating Scale
5 = great, 1 = poor
Educational Value
4.8
Kid Appeal
5.0
Ease of Use
4.5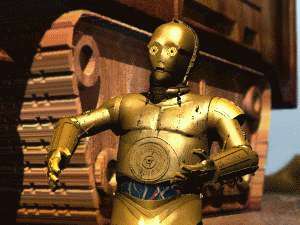 System Requirements

PC / Mac Price Survey

Product Support

A long time ago, in a galaxy far away...


The fight for freedom continues. Rebel spies have learned that the evil Empire has built a hidden droid factory somewhere on the planet Tatooine. It is here that Imperial engineers are building an army of assassin droids. Once completed, these dangerous machines will terrorize the galaxy.

The Rebel Alliance must find this secret factory and reprogram the assassin droids. To accomplish this mission, the Rebel leaders have selected one of their most trusted agents...

You.

The user takes on the role of secret agent, and master droid builder. Your job will be to create droids with the skills necessary for each of 29 missions, using an advance, 3-D, Star Wars version of something akin to Widget Workshop. Each mission has objectives which can only be met by a droid with the right capabilities -- pick the wrong ones, and your droid will fail.

We were ready to classify this program as an entertainment game, rather than an educational software program. Then we tried it out. Successfully overcoming the obstacles in every mission requires the user to make use of educational hints provided by the program's "Information and Data Exchange" or InDex. This nicely done reference tool provides information on machines, light, energy, force, and materials. For example, one of the earliest missions requires that the user understand and be able to apply the concepts behind inclined planes, angles, and inertia. Each of these topics is covered in InDex, frequently with a combination of explanations, animated examples, and questions related to everyday examples.

Star Wars DroidWorks is an educational program that successfully captures the mesmerizing quality of many electronic game programs. Our parent and student testers reported that this program captivated them for hours at a time, and drew them back again and again. The program features great graphics with familiar characters, plot, and music.

DroidWorks installed without any problems on our test PC's and Mac, but not without a few time consuming steps, depending on the user's system configuration. This program requires a fairly modern machine, with recent drivers and operating systems. For example, some of our reviewers reported having to upgrade their MacOS' to version 7.5.5 -- luckily, the upgrade is included on the DroidWorks CD.

The introductory tutorial explaining the program, and how to build droids, is exceptionally clear and easy to understand. Most instructions are audibly presented, and backed up by a recall button accessible from every screen, which summons C3PO to assist. The actual process of successfully completing each mission, however, is not easy. The missions take time, and involve a trial-and-error learning process, as well as necessary interuptions to learn educational facts that provide hints, from InDex.

Best for... / Bottom-Line


Star Wars DroidWorks is an intellectually stimulating, viscerally captivating program. It provides a great introduction to scientific principles of energy, force and motion, simple machines, light and magnetism, plus a wealth of information about various metallic materials. In our testing, it appealed most to users with curiosity-driven patience and tenacity. One final note -- one parent reviewer noted that their 4 year-old son was captivated by the program, AND was able to successfully complete missions, after their requirements were read to him!
See SuperKids' comparisons with other Science software titles, other problem solving software titles, and the Buyers Guide for current market prices of the PC and Mac versions.
PC: Windows 95 or 98, Pentium 133MHz or faster cpu, 34MB minimum hard drive space, 16MB minimum MB RAM, 100% DirectX compatible PCI graphics card, 4X or faster CD-ROM, 100% DirectX compatible 16 bit sound device

Mac: System 7.5.5 or higher, 120MHz PowerPC 604 or 160MHz PowerPC 603E or faster cpu, 32MB min hard drive space plus a 16MB temporary file, 32MB RAM, 13" or larger color display, 4Xor faster CD-ROM

Reviewed on:

PowerMac 6400/200 with 32MB and 8XCD
Pentium166 with 24MB and 12XCD
return to top of page
---


Questions or comments regarding this site? webmaster@superkids.com
Copyright © 1998-2023 Knowledge Share LLC. All rights reserved. Privacy Policy