free newsletter!

tell a friend!

contests

software
reviews
bestseller list
price survey
what's new
product support
search

educational tools
ask a scientist
math worksheets
vocabulary builders
hangman
iPhone/iPad apps
logic games
brain food

educational insights

feature articles

marketplace
iPhone/iPad apps
reading corner
movie corner

SuperKids home
about SuperKids
advertise!
humor
links
help


* * *

Promotions




* * *



all reviews > > > science software
Connie & Bonnieís Birthday Blast Off

Active Arts

Ages 6 to 10
Rating Scale
5 = great, 1 = poor
Educational Value
4.8
Kid Appeal
4.0
Ease of Use
4.8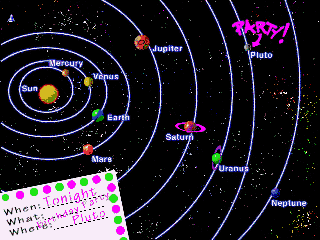 System Requirements

PC / Mac Price Survey

Product Support

This surprisingly entertaining program includes an enormous amount of interesting and useful information about our solar system in a remarkably kid-friendly package. Connie & Bonnieís Birthday Blast Off adventure begins when twins Connie and Bonnie, and their debonair poodle Jeff, erroneously receive an invitation to a birthday celebration on Pluto. The thrill-seeking trio readily depart on their lengthy voyage to Pluto, stopping to observe and learn about the sun, the moon and the various planets along the way.

Connie & Bonnieís Birthday Blast Off combines an interactive-story format with a myriad of colorful charts, dozens of science-fair winning projects, a complete paint program, and fun riddles to test the userís reading comprehension and retention. Every page in the story features multiple hot spots that, when clicked, reveal facts about our solar system--the planets, space travel and other space phenomenon. Information is presented in various ways, from monologues, to animated demonstrations, to actual NASA videos.

Although the information presented is fascinating, and quite accessible, some of it is overly technical for the programís intended audience. The interactive story portion is clearly aimed at younger readers, while the charts and other technical portions of the program are best understood and appreciated by an older child. . A fifth-grade reviewer complained that ". . .the videos are boring." "My second-grader enjoyed the story, and clicking on the pictures, but didnít really listen to the information presented," was another parentís comment.

Best for... / Bottom-Line


Regardless of the degree to which children digest presented facts and figures, this program is an excellent resource, sure to enlighten and educate its users.
See SuperKids' comparisons with other Science software titles, and the Buyers Guide for current market prices of the PC and Mac versions.
PC: Windows 95, 486/66 or faster or faster cpu, 4 MB MB hard drive space, 8 MB(16 MB recommended) RAM, 2X or faster CD-ROM, Windows-compatible sound card

Mac: 68040/40 or faster or faster cpu, 4 MB hard drive space, 16 MB RAM, 2X or faster CD-ROM

Reviewed on:

PowerMac 6400/200 with 32MB and 8XCD
Pentium166 with 24MB and 12XCD
return to top of page
---


Questions or comments regarding this site? webmaster@superkids.com
Copyright © 1998-2023 Knowledge Share LLC. All rights reserved. Privacy Policy