free newsletter!

tell a friend!

contests

software
reviews
bestseller list
price survey
what's new
product support
search

educational tools
math worksheets
vocabulary builders
hangman
iPhone/iPad apps
logic games
brain food

educational insights

feature articles

marketplace
iPhone/iPad apps
reading corner
movie corner

SuperKids home
about SuperKids
advertise!
humor
links
help


* * *

Promotions




* * *




* * *



all reviews > > > reference software
Merriam Webster's Collegiate Dictionary - Deluxe Audio Edition

Merriam Webster

Ages 10 to adult
Rating Scale
5 = great, 1 = poor
Educational Value
4.5
Kid Appeal
3.0
Ease of Use
5.0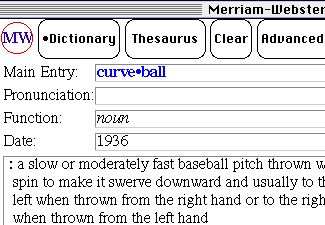 System Requirements

PC / Mac Price Survey

Product Support

According to one of our reviewers, Merriam Webster's Collegiate Dictionary "is an aid for the vocabulary impaired and an adventure for the word connoisseur."

To look up a word, the user enters it in a very simple screen, specifies dictionary or thesaurus, and clicks the search button. Search results include the word's pronunciation, function, usage, etymology, and date of first known use. If the user is unsure of the spelling of a word, a click on the "Spell Check" button will cause the program to look for entries that are phoenetically similar and list them in alphabetical order. For example, a search for "filately" quickly produced the correct word for stamp collecting, "philately."

Of the more than 160,000 entries, 100,000 include a feature that allows the user to hear the correct pronunciation of the word. Alternating between male and female speakers, the pronunciations are clear and natural sounding, not mechanical like those we encountered in Microsoft Bookshelf 98. "I often see words in print that I've never heard used in actual speech" commented one adult reviewer. "I'm thrilled to finally know how to pronounce words like 'assuage.' In short, Merriam Webster's Collegiate Dictionary is, for the computer user, a neat replacement for the traditional paper dictionary.

In addition to defining words, providing synonyms, and answering spelling questions, other options allow the user to search for words by their language of origin, date of first use, usage label or part of speech. A crossword option allows enthusiasts to search for a specific word given only some of its letters. The program can also help decode cryptograms, solve word jumbles, and clarify the differences between synonyms.

Merriam Webster's Collegiate Dictionary has the power to open the user's mind to the delights of the written word. Our child reviewers were enthusiastic about the ease with which they could cruise through the dictionary, double-clicking on defining terms to uncover their meanings as well.

Merriam Webster's Collegiate Dictionary installed without difficulty on our reviewers' PC and Mac test machines. Included with the program is a utility (the M-W link) that allows the user to access the dictionary or thesaurus from other Windows or Macintosh programs. SuperKids' reviewers found this link to be the most useful aspect of the program. With it, they could look up definitions and spellings without exiting their word processing programs. More than one reviewer mentioned using the link while composing e-mail. "I not only use the dictionary as a spell-checker for my e-mail, but I often consult the thesaurus as well." Unfortunately, this link only works when the program's CD is installed, so it can't be accessed when other CD's are being used.

Best for... / Bottom-Line


This extremely useful program is a great addition to any computer library -- and one that the spelling or vocabulary-impaired will find indispensable.
PC: Windows 3.1 or Win95 or later, 486SX or faster cpu, 2 MB hard drive space, 4 MB RAM, VGA or SVGA monitor, 1X or faster CD-ROM, sound card and speakers, mouse

Mac: System 7.0 or higher, 68030 or faster cpu, 2 MB hard drive space, 4 MB RAM, 1X or faster CD-ROM, True-type fonts and foreign file access

Reviewed on:

PowerMac 6400/200 with 32MB and 8XCD
Pentium166 with 24MB and 12XCD
return to top of page
---


Questions or comments regarding this site? webmaster@superkids.com
Copyright © 1998-2016 Knowledge Share LLC. All rights reserved. Privacy Policy