free newsletter!

tell a friend!

contests

software
reviews
bestseller list
price survey
what's new
product support
search

educational tools
ask a scientist
math worksheets
vocabulary builders
hangman
iPhone/iPad apps
logic games
brain food

educational insights

feature articles

marketplace
iPhone/iPad apps
reading corner
movie corner

SuperKids home
about SuperKids
advertise!
humor
links
help


* * *

Promotions




* * *



all reviews > > > reading software
Leap into Language 1

INNOVA Multimedia Ltd.

Ages 4 to 7
Rating Scale
5 = great, 1 = poor
Educational Value
4.5
Kid Appeal
3.0
Ease of Use
4.5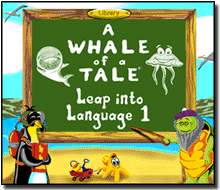 System Requirements

PC / Mac Price Survey

Product Support

This early learning software offers comprehensive language arts training in a simple, straightforward format. Amiable cartoon characters introduce kids to reading via twelve interactive language activities that present and drill skills ranging from letter sounds to word completion to beginning reading. Interesting bits of trivia are offered as bonus incentives for successfully completed lessons.

Lessons and activities found in Leap into Language 1 cover the following topics: letter sounds, letter formation, alpha ordering, word formation (making new words by changing a letter in a pre-existing word), sequencing, spacing, rhyming, plurals, suffixes, memorization, critical thinking, reading and reading comprehension. Activities are presented in a non-threatening manner by friendly nautical characters, and include plenty of interaction and evaluation opportunities.

This program is a bit slow and tedious, and will, therefore, work best for motivated learners. It lacks the glitzy animation and high energy found in some of the more commercial programs, and may tend to loose young kids with short attention spans.

Our teacher reviewers commended the program's comprehensive approach and noted that it would work in a classroom setting as a free-time, skill-enhancing and/or remediation activity.

To install Leap into Language 1 on Windows 95/98, users must first select 'Run' from the Start Menu, then type in "d:\win95\setup", where "d" represents the drive letter for the user's CD-ROM. To find a CD-ROM drive letter, double click on "My Computer", and note the letter listed under the CD-ROM icon. Macintosh users can copy the appropriate Language One folder onto their hard drive.

Once installed, program navigation is simple and intuitive.

Best for... / Bottom-Line


This beginning language arts program is designed to teach early reading skills. Because of its slow, focused approach, it will work best for serious, motivated learners and in a classroom or home schooling setting. We do not recommend this program for high energy, short attention span children.
See SuperKids' comparisons with other reading software titles, and the Buyers Guide for current market prices of the PC and Mac versions.
PC: Windows 3.1, Windows 95/98, IBM 486/66 compatible or better, 8 MB RAM, VGA 640x480, 256 color display, Double-speed or faster CD-ROM, Sound Blaster or compatible (8 bit, 22khz).

Mac: System 7 or higher, 68040 or better or Power PC, 8 MB RAM, Color Monitor, 256 color, Double-speed or faster CD-ROM 8 bit, 22 kHz sound capability.

Reviewed on:

PowerMac 6400/200 with 32MB and 8XCD
Pentium166 with 24MB and 12XCD
return to top of page
---


Questions or comments regarding this site? webmaster@superkids.com
Copyright © 1998-2023 Knowledge Share LLC. All rights reserved. Privacy Policy