free newsletter!

tell a friend!

contests

software
reviews
bestseller list
price survey
what's new
product support
search

educational tools
math worksheets
vocabulary builders
hangman
iPhone/iPad apps
logic games
brain food

educational insights

feature articles

marketplace
iPhone/iPad apps
reading corner
movie corner

SuperKids home
about SuperKids
advertise!
humor
links
help


* * *

Promotions




* * *




* * *



all reviews > > > other
Rainbow Hoppers

Social Express

Ages 4 to 7
Rating Scale
5 = great, 1 = poor
Educational Value
4.5
Kid Appeal
3.0
Ease of Use
3.0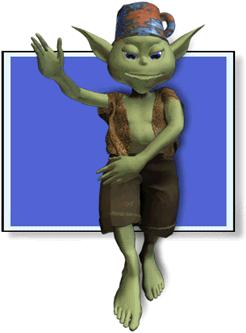 System Requirements

PC / Mac Price Survey

Product Support

This promising adventure for preschoolers presents a magical world filled with learning and fun. Unfortunately, the program has a few flaws that detract from what is a refreshingly novel program.

In Rainbow Hoppers, the user is invited into a splendid 3D world called Elfland. Here, the elves are in despair. They've observed that the rainbow is disappearing at an alarming rate. Since elves love rainbows almost as much as they love children, they will do anything to save it from extinction. For this reason, Mooty Galoot, self-appointed guide and an elf himself, asks that the user undertake a mission to find the missing rainbow and bring it back to Elfland.

And so the Elfland quest begins. Five major paths lead to places of interest: Elf Park, Elf School, Elf Homes, Elf Village and Elf Farm. A sixth, secret path also exists, but is not initially accessible. Children explore Elfland by either holding down the mouse and scrolling, or by using the keyboard arrow keys. When a new path or an activity of some sort becomes available, the hand cursor changes to include a pointed finger. As the child explores, new people, objects and activities appear. Items encountered that will be needed later in the game can be picked up and stored in the user's inventory bag. Mooty Galoot surfaces from time to time to offer direction and advice. Another character, RudeLee, also appears now and then, exhibiting bad behavior and attempting to lure the user into negative situations. It quickly becomes obvious that he is someone to avoid at all costs, his pranks have consequences, and most often it is the user who is left to clean up his messes.

Rainbow Hoppers emphasizes its lessons in social skills, however it really teaches a wide range of early learning skills as well. Kids drill such preschool basics as listening and following directions, comparing and contrasting, learning about weather, weight, and volume, learning direction, sorting, and matching, as well as some early arithmetic and reading skills.

The social messages are overt, and well placed. Kids must click to cross a road, but if they do so before the light turns green, a crash occurs and Mooty gives the user a reminder about traffic safety. Kids not only have the opportunity to see the negative outcomes that bad behavior can bring about (when RudeLee beans a cow with a rotten tomato he is duly punished with a boot from the cow); they also experience what it's like to be on the receiving end of a prankster's mischief (when he plasters a house with water balloons, the user must help clean up). Other social skills that children can learn from this program include: respect for animals and plants, helping others, caring for plants and animals, manners, accepting social differences, table etiquette, respect for people and community, helping others, and friendship.

Elfland is an enchanting place, forested, misty and quaint. Just the sort of place where one imagines that elves, dragons and other mythical creatures must live. Unfortunately the graphics included in Rainbow Hoppers are not quite right. The creators have apparently cut and pasted animated graphic sequences into backgrounds, and the result is disappointing. Often characters bodies are awkwardly chopped off, and graphics boxes can be seen overlaying backgrounds. When scrolling through the 3D environment a fair amount of distortion also occurs, so that characters take on strange shapes reminiscent of pulled taffy.

Although our testers were entertained by the program's copious activities, they encountered some that proved temperamental, working smoothly for one trial and then not working at all for the next. This caused children to lose interest in the program despite their initial enthusiasm for the theme.

This program installs without difficulty. It also installs QuickTime 3.0.2 regardless of whether the user wants and needs it.

The Rainbow Hoppers program screen includes a collapsible toolbar that runs across the top and allows the user easy access to the Logbook, (to change players), the "Friends" or Help menu, and the Print button and Exit buttons.

As mentioned above, some of the activities included in this program failed, at times, to work correctly for our panel of testers. Our testers also reported getting stuck in activity loops from which they could not exit. At this point they were forced to quit the program.

Best for... / Bottom-Line


Rainbow Hoppers offers users a glimpse of what could be a really excellent and refreshingly novel preschool program. Unfortunately we can't currently recommend it because of its uneven graphics and programming bugs.
See SuperKids' Buyers Guide for current market prices of this PC-only title.
PC: Windows 95/98/NT, Pentium II, 133 MHz or faster cpu, 10 MB hard drive space, 32 MB RAM, 64 MB RAM recommended, 640x480 resolution with 16-bit color display, 4x or faster CD-ROM, Windows compatible sound card.

Reviewed on:

Pentium266 with 24MB and 12XCD
return to top of page
---


Questions or comments regarding this site? webmaster@superkids.com
Copyright © 1998-2016 Knowledge Share LLC. All rights reserved. Privacy Policy