free newsletter!

tell a friend!

contests

software
reviews
bestseller list
price survey
what's new
product support
search

educational tools
ask a scientist
math worksheets
vocabulary builders
hangman
iPhone/iPad apps
logic games
brain food

educational insights

feature articles

marketplace
iPhone/iPad apps
reading corner
movie corner

SuperKids home
about SuperKids
advertise!
humor
links
help


* * *

Promotions




* * *



all reviews > > > preschool software
Play Along with Wimzie

Simon & Schuster Interactive

Ages 3 to 6
Rating Scale
5 = great, 1 = poor
Educational Value
4.0
Kid Appeal
4.0
Ease of Use
5.0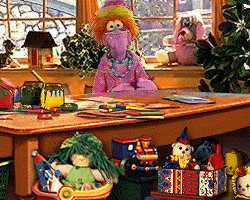 System Requirements

PC / Mac Price Survey

Product Support

Wimzie is a whimsical muppet, whose fuchsia hair is tied in pigtails with big blue ribbons, alongside her orange horns. Preschoolers know her as the star of her own public television program, 'Wimzie's House', which is set in a home child care environment. Wimzie, along with her family and friends, shares her everyday tribulations with her young audience, and invites them to learn about life through her experiences.

Play Along with Wimzie offers a new way for youngsters to interact with their favorite muppet family. Five activities challenge users in a variety of ways. Included are a memory challenge, an arcade-like game that requires kids to differentiate between pleasant and unpleasant images, an attributes games in which kids select the correct family member based on given characteristics, a 'feelings' game which asks kids to identify the emotion that accompanies a given scenario, and a puzzle game. Each activity is introduced through a brief video, which not only succeeds in setting the stage for the activity, but also familiarizes the user with Wimzie's family and the workings of her household.

Play Along with Wimzie attempts to teach social skills as well as early problem-solving skills. In addition to memory and logic, the activities focus on settling disagreements, identifying emotions, and empathizing with others. As such it encourages self-expression and self-esteem and stresses the need for patience, understanding and teamwork.

Three levels of game play can be easily adjusted from the program's main menu. The memory and logic activities include distinct levels and can be quite challenging at the highest level, even for children at the upper end of the age range.

Our kid testers who were already familiar with Wimzie and her gang were especially excited to tackle this program, but even those who had never heard of the characters found it enjoyable. Each activity provides plenty of encouragement and positive feedback, stressing positive social issues without becoming syrupy sweet. Activities are presented in a way that makes kids feel as though they are truly interacting with the characters, together creating fun games out of simple everyday tasks. Although the introductory videos can be skipped with a press of the spacebar, our testers didn't tire of watching them over and over. "It's a nice change of pace from the typical animated program." noted one parent tester.

Play Along with Wimzie requires no installation on Windows 95/98. QuickTime 2.5 and Indeo Video are required to run the program on a Macintosh--both are available for installation from the program CD.

The program itself is simple and intuitive. Our kid testers had no trouble navigating without adult guidance.

Best for... / Bottom-Line


This agreeable preschool program stresses social, problem solving and logical thinking skills. Although it won't help teach preschoolers to add and subtract, or read and write, it works on those intangible skills that must be learned to succeed in the world (and on the playground!).
See SuperKids' comparisons with other preschool software titles, and the Buyers Guide for current market prices of the PC and the Mac versions.
PC: Windows 95/98, Pentium 90 or faster cpu, 16 MB RAM, Monitor set to thousands of colors recommended, Quad-speed or faster CD-ROM.

Mac: PowerMac or faster cpu, 16 MB RAM, Monitor set to thousands of colors recommended, Quad-speed or faster CD-ROM.

Reviewed on:

PowerMac 6400/200 with 32MB and 8XCD
Pentium 266 with 64MB and 12XCD
return to top of page
---


Questions or comments regarding this site? webmaster@superkids.com
Copyright © 1998-2023 Knowledge Share LLC. All rights reserved. Privacy Policy