free newsletter!

tell a friend!

contests

software
reviews
bestseller list
price survey
what's new
product support
search

educational tools
ask a scientist
math worksheets
vocabulary builders
hangman
iPhone/iPad apps
logic games
brain food

educational insights

feature articles

marketplace
iPhone/iPad apps
reading corner
movie corner

SuperKids home
about SuperKids
advertise!
humor
links
help


* * *

Promotions




* * *



all reviews > > > preschool software
Disney's Winnie the Pooh Preschool

Disney Interactive

Ages 2 to 4
Rating Scale
5 = great, 1 = poor
Educational Value
4.0
Kid Appeal
4.0
Ease of Use
5.0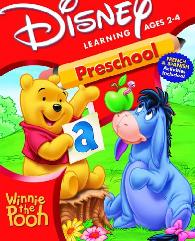 System Requirements

PC / Mac Price Survey

Product Support

This program plays much like a "Winnie the Pooh" cartoon episode. As it begins, Pooh is having rumblings in his tummy. Past experience tells him that this disturbing feeling means he is forgetting something important. But what could it be? Perhaps it's Eeyore's birthday, an occasion that mustn't be neglected. With party planning in mind, Pooh sets off to visit his friends in the 100-Acre Wood and invite them to join the celebration.

Pooh's friends are hard working. Each is in the midst of a project when Pooh arrives. Although they whole-heartedly agree that Eeyore's birthday merits observance, they can't simply leave their duties unfinished. They need assistance, and Pooh (and his young helper) can provide it!

The preschooler travels to six venues within the 100 Acre Wood, completing simple activities and rounding up eager party-goers. When all six learning activities are complete, the story culminates in the 'Party Spot', where surprises await and friendship reigns supreme. This new, enhanced version, adds an optional visit to the mysterious 'Echo Tree', where Pooh's words are echoed back in either Spanish or French.

Disney Preschool provides learning activities to teach and strengthen the following early learning skills: letter order, letter recognition, phonics, thinking skills, deductive reasoning, sequencing, categorization, attributes, number recognition, counting, auditory discrimination, listening skills, following directions, creativity, and colors (including color mixing). In addition the program helps familiarize young students with computer use, and requires fairly refined mouse skills (pointing and clicking). Social skills are stressed as Pooh and his companions work together to achieve a goal, and ultimately make their party a friendship celebration.

In addition to the six major activities, a Print 'n' Learn section offers Pooh-themed printable stickers, name tags, bookmarks, workbook pages and numerical flashcards that can be printed for away-from-the-computer enjoyment. Although the 'EchoTree' language tree is an interesting idea, our young testers did not find it to be a captivating activity -- "it's boring" according to one. Finally, a Progress Chart allows parents to easily monitor their children's progress with the program.

Winnie the Pooh and his whimsical friends have won the hearts of children for generations. In this program they are as likable as ever--old friends who want to include the preschooler in their blissful world. Although included activities are not particularly innovative, they are simple enough for a preschooler to complete and are available at three levels to the challenge the developing user. Clues are provided throughout the activities to help kids learn skills they have not already mastered. Involved mouse skills are difficult for 2 and 3 year-olds, therefore adult or older sibling assistance may be needed until proficiency is achieved.

The program's cartoon-like quality allows it to capture and maintain the attention of preschoolers more effectively than many other programs in this category. Our tester's favorite activity, called 'Pooh's Dream', places Pooh in a dream world and asks students to help him climb a cloud-covered staircase by completing picture-story sequences. This task, which requires logical thinking and deductive reasoning, elicited squeals and hand clapping from our charmed preschool audience.

Disney Preschool installs without difficulty. Program navigation is simple and straightforward, and the included Program Manual provides program specific information where needed.

Best for... / Bottom-Line


Although Disney's Preschool is not the most innovative program of its type, it offers solid learning activities and features a familiar and lovable cast. Winnie the Pooh fans will not be disappointed.
See SuperKids' comparisons with other preschool software titles, and the Buyers Guide for current market prices of the PC and the Mac versions.
PC: Windows 95/98/Me, Pentium 133 MHz or faster cpu, 35 MB hard drive space, 32 MB RAM, 256 color DirectX-compatible Video Card, 4x or faster CD-ROM, 16-bit DirectX-compatible Sound Card.

Mac: System 8.6 through 9.x, G3 233 MHz or faster cpu, 35 MB hard drive space, 32 MB RAM, 256 Color Video display, 8x or faster CD-ROM.

Reviewed on:

PentiumIII 700Mhz, 128MB RAM, Windows Me
return to top of page
---


Questions or comments regarding this site? webmaster@superkids.com
Copyright © 1998-2023 Knowledge Share LLC. All rights reserved. Privacy Policy