free newsletter!

tell a friend!

contests

software
reviews
bestseller list
price survey
what's new
product support
search

educational tools
ask a scientist
math worksheets
vocabulary builders
hangman
iPhone/iPad apps
logic games
brain food

educational insights

feature articles

marketplace
iPhone/iPad apps
reading corner
movie corner

SuperKids home
about SuperKids
advertise!
humor
links
help


* * *

Promotions




* * *



all reviews > > > preschool software
MyWork

CD Garden

Ages 3 to 6
Rating Scale
5 = great, 1 = poor
Educational Value
4.0
Kid Appeal
4.0
Ease of Use
4.5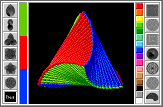 System Requirements

PC / Mac Price Survey

Product Support

This simple program introduces young children to the computer and the world of discovery it can provide. Its basic user interface offers activities ranging from unique art palettes, to number and letter identification and creation, and elementary memory games. Unlike many preschool programs, MyWork does not include sophisticated animation or graphics, and is therefore a nice option for young children who may become overstimulated by programs with too much going on at once.

Among the activities presented in MyWork are many that begin with what resembles a blank chalkboard. These activities include option filled toolbars with which kids can experiment with color, shape and design. One such activity is reminiscent of the classic "Etch-a-Sketch", while another is more like a "Spirograph". While the former activity allows kids to control the movement of the emerging design, in the latter they simply choose the design and the colors with which it will take shape. Watching the design unfold on the screen, however, is far from boring, and the design options are many.

Other unusual extras found in this program include a letter recognition activity which teaches the hand sign for each letter of the alphabet, and an activity that allows children to explore their emotions, while it also reinforces their growing understanding of pronouns.

MyWork offers young children plenty of opportunity for creativity, observation and discovery. In addition to drilling such pre-reading skills as color, letter, and number recognition, memory, and tracking; the open-ended activities also focus on fine motor development, cause and effect, labeling emotions, exploring diversity, problem solving and even some beginning sign language.

Our special education consultant noted that this program works well with older students who need to work on basic skills. Older students can also learn about primary and secondary colors and mathematical patterns as they play with the design activities.

Despite its simplicity, our kid testers liked this program. The basic format makes it easy for users to work on favorite activities at will. Although the program's intriguing art palettes received the most enthusiastic commendations, all activities were enjoyed by our panel of testers.

This program runs from the CD-ROM. Program navigation is hassle-free. The "Help" option gives directions and lists concepts learned for each activity. It also offers extended activities, including a recipe for making playdough to help children develop fine motor acuity.

Best for... / Bottom-Line


This surprisingly refreshing preschool program, offers kids ample opportunities for creativity, exploration and discovery. The unusual art and design activities are especially intriguing and attractive to kids much older than the listed age range.
PC: Windows 95/98, 20 MB hard drive space, 16 MB RAM, CD-ROM drive, Sound Card. QuickTime 4.0 (included).

Mac: System 7x - 9x or higher, 5 MB hard drive space, 8 MB RAM, CD-ROM drive, QuickTime 4.0 (included).

Reviewed on:

PowerMac 6400/200 with 32MB and 8XCD
Pentium500 with 128MB and 12XCD
return to top of page
---


Questions or comments regarding this site? webmaster@superkids.com
Copyright © 1998-2023 Knowledge Share LLC. All rights reserved. Privacy Policy