free newsletter!

tell a friend!

contests

software
reviews
bestseller list
price survey
what's new
product support
search

educational tools
ask a scientist
math worksheets
vocabulary builders
hangman
iPhone/iPad apps
logic games
brain food

educational insights

feature articles

marketplace
iPhone/iPad apps
reading corner
movie corner

SuperKids home
about SuperKids
advertise!
humor
links
help


* * *

Promotions




* * *



all reviews > > > preschool software
Bear's Imagine That!

Knowledge Adventure

Ages 3 to 6
Rating Scale
5 = great, 1 = poor
Educational Value
3.8
Kid Appeal
4.8
Ease of Use
4.8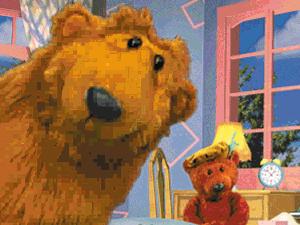 System Requirements

PC / Mac Price Survey

Product Support

Based on the "Bear in the Big Blue House" television series, this program, featuring Jim Henson muppet characters, encourages kids to challenge their imagination as they venture throughout the House. Bear's friend Ojo is imagining that she's Ojo-angelo, the famous marker and crayon artist. Unfortunately, she currently lacks inspiration and can think of nothing to draw. Bear advises her to "just think" and encourages her to find her inspiration everywhere, with the help of her friends!

User's venture throughout the house, enjoying clickable surprises, meeting Ojo's many friends, and completing five activities. They can choose to build colorform like scenes and collaborate on associated stories, combine household objects to make crafts that animate, catch falling ice cream scoops to assemble sundaes, complete Pip and Pop's silly songs, or enjoy an interactive puppet show. Bear pops in from time to time to offer his thoughts and encourage kids to expand their imaginations and think creatively.

The main educational focus of this program is on creativity and imagination. Preschoolers are encouraged to explore the world around them and to use their observations to expand their understandings of the world and abilities to express themselves. They can additionally learn a bit about shapes and spatial relationships, rhyming, following directions, and story telling.

Fans of the television show will certainly enjoy this program which is much like an interactive episode. The graphics and animation are sophisticated, the characters charming, the activities inviting and the storyline endearing. Our young testers especially liked the Puppet Theatre activity, which allows kids to choose from 4 well-known fairy tales that have been adapted to include "Big Blue House" characters. The branching stories let kids interact by choosing the directions the tales will take at various key junctures. Users also control popsicle-stick puppets as they move around on the stage.

Bear's Imagine That! installs without difficulty. Program navigation is simple, with a collapsible toolbar that appears at the bottom of the screen and offers easy movement throughout the house, direct access to each activity, and two step exiting from the program.

Best for... / Bottom-Line


Although it is not enormously educational, kids will enjoy this pleasant program based on the "Bear in the Big Blue House" television series.
See SuperKids' comparisons with other preschool software titles, and the Buyers Guide for current market prices of this PC-only program.
PC: Windows 95/98, Pentium 133 or faster cpu, 50 MB hard drive space, 32 MB RAM, 16-bit color graphics capability, CD-ROM drive, 16-bit Windows-compatible sound card.

Reviewed on:

Pentium166 with 24MB and 12XCD
return to top of page
---


Questions or comments regarding this site? webmaster@superkids.com
Copyright © 1998-2023 Knowledge Share LLC. All rights reserved. Privacy Policy