free newsletter!

tell a friend!

contests

software
reviews
bestseller list
price survey
what's new
product support
search

educational tools
ask a scientist
math worksheets
vocabulary builders
hangman
iPhone/iPad apps
logic games
brain food

educational insights

feature articles

marketplace
iPhone/iPad apps
reading corner
movie corner

SuperKids home
about SuperKids
advertise!
humor
links
help


* * *

Promotions




* * *



all reviews > > > kindergarten software
Little Bear Kindergarten Thinking Adventures

Creative Wonders

Ages 4 to 6
Rating Scale
5 = great, 1 = poor
Educational Value
3.5
Kid Appeal
4.5
Ease of Use
4.5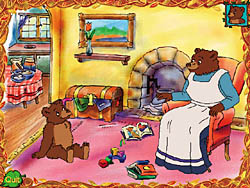 System Requirements

PC / Mac Price Survey

Product Support

This likeable kindergarten program features Maurice Sendak's tranquil young bear, his friends and his family, in a tale that leads the user through a variety of simple critical-thinking activities.

We join Little Bear as he prepares to rendezvous with his father, who is returning from a fishing trip. The two have plans to camp together at the seashore. Before Little Bear can even leave his house the user is involved in helping the cub, locating items he will need to pack and helping Mother Bear bake cookies for the camp-out. And so begins a trip that will take the child through a field where Little Bear picks flowers for the mermaid he hopes to meet, on a shortcut through a pictograph-filled cave, past a group of beavers building a pond, and out to the seashore where he finds his beloved Father and meets a mysterious visitor. Along his way Little Bear encounters many of his loyal friends. Each recruits him to perform a task, and each, in turn, is invited by Little Bear to the evening's campfire dinner.

A second, bonus CD entitled Family Fun includes 25 printable activities that reinforce thinking skills as they entertain the family.

The activities included in this program drill simple thinking tasks. Among the skills involved are: following directions, comparing and contrasting, sorting and classifying, attributes, patterns, sequencing, memory skills and critical thinking and problem solving. Three difficulty levels provide the user with plenty of room for development and growth. The art of storytelling is also examined and encouraged, as the group of friends concoct an amusing yarn while relaxing around the evening campfire.

Our kid testers were enchanted by Little Bear and his mellow group of friends. They loved the story, and wanted to repeat it the moment it ended. "I read these books in school," reported one of our testers, "and I really like Little Bear!"

The activities, although not terribly unique (or highly educational) provide an adequate amount of user interaction. But program's main strengths lie in its characters and its charmingly sweet story.

This program installs without difficulty. Program navigation is, for the most part, simple and self-explanatory. Some of our young testers were a bit confused about how to proceed to the next scene following completion of each activity, but with a little adult aid they were able to master program navigation quite quickly.

Best for... / Bottom-Line


This kindergarten program is not the best choice for those who want to drill the 3 R's. The included activities are fairly lightweight, and involve the more vague general thinking skills. It is, however, a very sweet program, featuring a lovely story about a gentle, well-adjusted family of bears and their benevolent animal friends. We especially recommend it for those kids who are already acquainted with Little Bear and his genial crew.
PC: Windows 95/98, Pentium 75 or faster cpu, 20 MB hard drive space, 16 MB RAM, 256 color display, 4x or faster CD-ROM, Wincard.

Mac: System 7.5.3 or higher, Power PC or faster cpu, 20 MB hard drive space, 16 MB RAM, 256 color display, 4x or faster CD-ROM.

Reviewed on:

PowerMac 6400/200 with 32MB and 8XCD
Pentium166 with 24MB and 12XCD
return to top of page
---


Questions or comments regarding this site? webmaster@superkids.com
Copyright © 1998-2023 Knowledge Share LLC. All rights reserved. Privacy Policy