free newsletter!

tell a friend!

contests

software
reviews
bestseller list
price survey
what's new
product support
search

educational tools
ask a scientist
math worksheets
vocabulary builders
hangman
iPhone/iPad apps
logic games
brain food

educational insights

feature articles

marketplace
iPhone/iPad apps
reading corner
movie corner

SuperKids home
about SuperKids
advertise!
humor
links
help


* * *

Promotions




* * *



all reviews > > > kindergarten software
Arthurís Kindergarten

Creative Wonders

Ages 4 to 6
Rating Scale
5 = great, 1 = poor
Educational Value
3.5
Kid Appeal
3.5
Ease of Use
5.0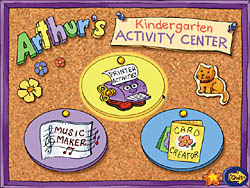 System Requirements

PC / Mac Price Survey

Product Support

This 2 CD set includes Arthurís Treehouse Adventure along with a second, Activity Center disc. Disc 1 opens as Arthur and his gang survey the damage caused to their treehouse by a recent storm. Many items need to be rebuilt and replaced. In exchange for their help, local adults have offered to provide the kids with the materials they need to complete their task. Userís join Arthur and his friends in a variety of learning activities that allow them to gather parts to repair the treehouse. Ultimately, thanks to hard work, a bit of luck and good citizenship the kids are successful in their attempts to rebuild their beloved treehouse.

The Activity Center disc includes a number of creativity projects to do both at and away-from the computer. Included are a Music Maker where kids link together a variety of sounds to create an original tune, a Print Activities section filled with interesting and varied workbook-like activities, and a Card Creator to make personalized cards featuring favorite Arthur characters.

This program drills the following skills: letter recognition and identification, letter sounds, vocabulary, counting, addition and subtraction, shapes and colors, sorting, memory, categorization, sequencing, patterns, logic, basic science, creativity and social skills. Three skill levels allow the program to grow with user ability level.

Our teacher testers noted with disappointment that although some exercises present the opportunity for teaching kindergartners important facts, the program fails deliver. For example, a library sorting activity requires kids to categorize story content as either fact or fiction. Given a book about an insect with eight legs, the user is expected to answer Ďfictioní. At this point the answer could be clarified with a simple statement like: ďAlthough spiders are often thought of as insects, they actually belong to the arachnid family.Ē In this way, the program would not only be drilling, but increasing the childís knowledge at the same time.

Based on the popular ĎArthurí book and series, this program relies on the popularity of its characters, and cartoon quality animation to entertain its audience. Beyond that, it seems to be half-heartedly attempting to provide a product that will engage and educate. Although some activities are interesting, others are simply repeats of already overused exercises found in other programs. Question cycles are brief so that the same question is asked far too frequently. Rewards, in the form of an item earned to help rebuild the treehouse, require tedious repetition of the same activity, and characters repeat the same introduction to activity trials over and over with little if any variety. One mother said: ďMy daughter usually enjoys replaying the same activities, but in this case the repetition was too great. . .she lost motivation and drifted away from the program.Ē

The Activity Center received more positive comments from our testers. Kids enjoyed the printable activities and noted that the Card Creator was remarkably easy to use.

Arthurís Kindergarten installs without difficulty on all platforms. Program navigation is simple and straightforward, and each activity is explained at its commencement with absolute clarity. Movement between ability levels is also simple and can be accomplished with ease.

Best for... / Bottom-Line


Although this program includes the well-loved ĎArthurí characters, its activities tend to be tedious and overly repetitious, causing it to fall short of excellence as a title in the kindergarten software category.
PC: Windows 98/95 or NT, 486/66 MHz processor or faster, 20 MB hard drive space, 16 MB RAM, 256 color display, Double-speed or faster CD-ROM, Sound Blaster or compatible sound card.

Mac: System 7.1 or higher, 60 MHz Power PC or faster cpu, 16 MB RAM, 256 color display, Double-speed or faster CD-ROM Sound Manager 3.1.

Reviewed on:

PowerMac 6400/200 with 32MB and 8XCD
Pentium166 with 24MB and 12XCD
return to top of page
---


Questions or comments regarding this site? webmaster@superkids.com
Copyright © 1998-2023 Knowledge Share LLC. All rights reserved. Privacy Policy