free newsletter!

tell a friend!

contests

software
reviews
bestseller list
price survey
what's new
product support
search

educational tools
ask a scientist
math worksheets
vocabulary builders
hangman
iPhone/iPad apps
logic games
brain food

educational insights

feature articles

marketplace
iPhone/iPad apps
reading corner
movie corner

SuperKids home
about SuperKids
advertise!
humor
links
help


* * *

Promotions




* * *



all reviews > > > baby software
JumpStart Baby

Knowledge Adventure

Ages 9 to 24 months
Rating Scale
5 = great, 1 = poor
Educational Value
3.5
Kid Appeal
3.5
Ease of Use
4.5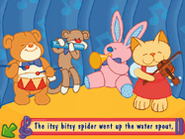 System Requirements

PC / Mac Price Survey

Product Support

Wake up babies! Cuddly little Teddy has arrived to spend the day. He hopes to entertain with his eight upbeat activities--typical baby favorites! All the encouragement he needs is a key stroke here and there. So press any key and let the games begin.

Above Teddy's crib hangs a mobile. The objects hanging off the mobile represent different activities to try. Each object twirls in turn, and clicking or pressing a key while it twirls causes the associated activity to commence.

Baby can choose to dress Teddy--for snow or sand, find his farm animal friends--and hear their sounds, sort colored objects on the Color Train, join in a Sing-a-Long with Teddy's friendly band, connect stars to draw pictures in the sky, help Teddy complete simple puzzles, search for Teddy in a game of Hide and Seek, or help color an amusing picture. In each case Baby must press keyboard keys on cue to allow the activity to proceed.

This program offers baby an opportunity to play with and learn from the computer, a tool which s/he probably sees other family members using with regularity. Not only that, but it creates a positive first experience that will remain with the developing child through the ensuing years.

Jump Start Baby offers familiar early learning experiences via the computer screen. These favorite games are crucial elements in the development of beginning critical thinking skills. Although interaction is minimal, it is enough to give the child a sense of control. With adult supervision, Baby can learn to tap lightly on the keyboard keys, or click the mouse when Teddy asks, and experience the result of these actions.

Each activity includes a 'tip box' which pops up when the user clicks on the included light bulb icon. These tips are meant to give parents ideas for associated away-from-the-computer play. Unfortunately, some of our reviewers felt that most of these tips are insultingly obvious -- useful only for adults who are helpless around babies.

Kids in this age range have very short attention spans. They want to be moving about, picking things up, turning them over, and most likely, putting them in their mouths. This program does its best to work within these limitations. The activities are brief and simple, the graphics large and colorful, and the characters cute and friendly. Our testers especially enjoyed the 'Hide and Seek' activity.

This program installs without difficulty. Program navigation is easy enough for a baby to use (well, almost).

Our testers did mention that some activities didn't run as smoothly as they would have liked. At times they didn't realize that a key stroke was needed to make the action continue and waited patiently without success.

Best for... / Bottom-Line


Jump Start Baby includes plenty of simple activities for parents to do with their babies, providing another learning experience in the world of experiences available to this youngest group of early learners.
See SuperKids' comparisons with other baby software titles, and the Buyers Guide for current market prices of the PC and the Mac versions.
PC: Windows 31. and up, 486DX2/66 or faster cpu, 15 MB hard drive space, 16 MB RAM, SVGA 256-color graphics adapter, Double-speed or faster CD-ROM, MPC-compatible sound card.

Mac: System 7.5 or higher, PowerPC or faster cpu, 15 MB hard drive space, 8 MB RAM, 256-color graphics capability, Double-speed or faster CD-ROM.

Reviewed on:

PowerMac 6400/200 with 32MB and 8XCD
Pentium266 with 64MB and 12XCD
return to top of page
---


Questions or comments regarding this site? webmaster@superkids.com
Copyright © 1998-2023 Knowledge Share LLC. All rights reserved. Privacy Policy