free newsletter!

tell a friend!

contests

software
reviews
bestseller list
price survey
what's new
product support
search

educational tools
ask a scientist
math worksheets
vocabulary builders
hangman
iPhone/iPad apps
logic games
brain food

educational insights

feature articles

marketplace
iPhone/iPad apps
reading corner
movie corner

SuperKids home
about SuperKids
advertise!
humor
links
help


* * *

Promotions




* * *



all reviews > > > 4th grade multisubject software
Carmen Sandiego's ThinkQuick Challenge

The Learning Company

Ages 8 to 12
Rating Scale
5 = great, 1 = poor
Educational Value
4.0
Kid Appeal
4.5
Ease of Use
4.0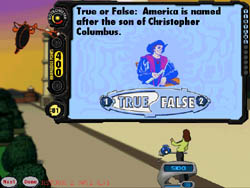 System Requirements

PC / Mac Price Survey

Product Support

What's the latest devious scheme concocted by Carmen Sandiego and her VILE henchmen? Having failed miserably at her previous attempts at world domination, Carmen has finally hit on the ultimate plan. She will steal all the world's knowledge, for, to quote the thief herself: "Knowledge is Power." To help with her plan, Carmen has enlisted a group of master thieves. Past experience warns her that ACME agents are clever and motivated, and will do their best to thwart her escapades. She has, therefore, also created a team of information gobbling Knowledge Robots. Acme agents must travel to famous locations throughout the world to outwit these 'Knowbots' in a variety of subjects, and prevent them from consuming all the knowledge in the world.

Carmen Sandiego's ThinkQuick Challenge features a quiz-show theme. With multiplayer capacity, and 3 levels of difficulty, students must correctly answer grade-appropriate questions in Math, Science, Language Arts, Geography, History, Art and Music. Question formats vary between multiple choice, true/false, matching, and quick response. Follow-up information is provided for many of the questions, offering kids the opportunity to expand their knowledge of included subjects.

Each mission commences with a 'sleuth activity', which requires arcade-like quick reaction skills. Problem-solving skills are needed for the last portion of each mission, which requires the user to crack the code required to gain entrance to the VILE headquarters. At this point a click is all that's required to capture the thief and recover the stolen scholarship.

Carmen's capers continue to provide exciting, non-stop action, while challenging students to think, react and learn. Those who have never experienced a Carmen adventure will be amazed at the complexity of the storyline and the refinement of the graphic style.

Those familiar with the theme will note (with varying reactions) that this program is quite similar to other programs in the line (see Carmen Sandiego Math Detective and Carmen Sandiego Word Detective). This fact, and the 'quiz-show' motif which has been overdone of late in the kids software industry, conspire to make the program seem slightly stale to veteran software users.

These potential shortcomings aside, QuickThink Challenge is quite likable, and fared well with our testers. They especially enjoyed the avatar (proxy) agents who cheer correct user responses with phrases like: "ka ching!" and "UNstoppable" while performing characteristic victory dances.

Carmen Sandiego's QuickThink Challenge installs without difficulty on Windows machines. General program navigation is never a problem, although our testers did, at times, feel unsure about how to proceed with a given question type. They were unable to find specific help in the User's Manual, but eventually figured out what to do through somewhat frustrating trial and error.

Best for... / Bottom-Line


With superb graphics and an intricate storyline, this multisubject program will amaze and delight Carmen Sandiego neophytes and enthusiasts. Those who have begun to tire of the oft-used quiz-show theme, however, may be disappointed by this Carmen Sandiego adventure.
PC: Windows 95/98, Pentium 133MHz or faster cpu, 25 MB hard drive space, 8 MB RAM (16 MB recommended), SVGA 640 x 480, 256 color display, 4X or faster CD-ROM, sound device, modem (optional).

Mac: System 7.5.1 or higher, Power Macintosh PPC 100MHz or faster cpu, 25 MB hard drive space, 16 MB RAM, 13" or larger monitor, 256 color display, 4X or faster CD-ROM, modem (optional).

Reviewed on:

PowerMac 6400/200 with 32MB and 8XCD
Pentium 266 with 64MB and 12XCD
return to top of page
---


Questions or comments regarding this site? webmaster@superkids.com
Copyright © 1998-2022 Knowledge Share LLC. All rights reserved. Privacy Policy