free newsletter!

tell a friend!

contests

software
reviews
bestseller list
price survey
what's new
product support
search

educational tools
ask a scientist
math worksheets
vocabulary builders
hangman
iPhone/iPad apps
logic games
brain food

educational insights

feature articles

marketplace
iPhone/iPad apps
reading corner
movie corner

SuperKids home
about SuperKids
advertise!
humor
links
help


* * *

Promotions




* * *



all reviews > > > 1st Grade software
School House Rock! 1st & 2nd Grade Essentials

Creative Wonders

Ages 6 to 8
Rating Scale
5 = great, 1 = poor
Educational Value
4.9
Kid Appeal
4.75
Ease of Use
4.75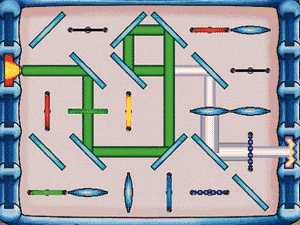 System Requirements

PC / Mac Price Survey

Product Support

School House Rock! 1st & 2nd Grade Essentials includes two years of basic skill development, original "School House Rock!" video clips, and a print section filled with non-computer games, puzzles, arts & crafts and science experiments. With two CDs and three widely varied levels of play, it provides inquisitive young students with many hours of fun, exploration and learning.

Disk 1 focuses on math skills and science concepts, featuring the same basic theme encountered in the School House Rock! Math Essentials CD-ROM. Lucky Seven Sampson resumes his quest to stage the ultimate School House Rock performance. To aid Lucky in his pursuit of this goal, the user immerses himself in 8 math and science activities, earning gold coins for each successful attempt. Once he has stockpiled an impressive bankroll, he can tackle the ultimate challenge, the "Road to Fame Game."

Disk 2, which addresses language arts, reading and American History, is similar in structure to Disk 1. This time, coins are collected for the "Space Race Game, " where students try to help Interplanet Janet blast off in her rocket ship and travel to her distant planet home.

The math activities found in Disk 1 are nearly identical to those found in the School House Rock! Math Essentials program. They involve addition, subtraction, place value, simple multiplication, problem solving, coordinate systems and deduction. Science challenges include exploration of light, sound, electrical circuits, and a section that utilizes the Morse Code to tap out answers to Science Trivia questions.

In like manner, Disk 2 develops reading and language arts skills, with activities that familiarize the student with subjects, predicates, nouns, pronouns, interjections, prepositions, conjunctions, and adverbs. Two entertaining virtual board games introduce elementary geography and social studies.

In each Disk, the beginning level of play illustrates the principle, while higher levels require more advanced knowledge and comprehension. School House Rock videos pertaining to the subject of the activity are readily accessible throughout the program, as is an equivalent help screen.

The mini-themes presented in each activity are well-developed and interesting, and capably piqued the interest of our more reluctant testers. Each of the diverse sections, which range in motif from football field to billiards hall, has its own charm. Our testers were especially excited by the light and electrical circuit activities, although many found the latter quite confusing and admitted to guessing on most answers.

The extensive print sections included on each disk were greatly appreciated by our parent reviewers who were delighted with the promise of so many 'extras' to save for vacation or a rainy day.

The program installs easily on Windows 95 from either disk. Navigation is simple and straightforward, and help is just a click away.

Best for... / Bottom-Line


This 1st and 2nd Grade program includes more language arts and less creative arts than other multisubject programs of its genre. It is well suited to the serious student, and is especially recommended for budding young scientists.
PC: Windows 3.1 or later, Windows 95, 486/66Mhz or faster cpu, 16.5 MB hard drive space, 8 MB RAM, 256-color monitor, Double-speed or faster CD-ROM, Windows-compatible sound card

Mac: System 7.0 or later, 68040or faster processor, 7 MB hard drive space, 8 MB RAM, 256-color monitor, 640x480 display, Double-speed or faster CD-ROM

Reviewed on:

PowerMac 6400/200 with 32MB and 8XCD
Pentium166 with 24MB and 12XCD
return to top of page
---


Questions or comments regarding this site? webmaster@superkids.com
Copyright © 1998-2023 Knowledge Share LLC. All rights reserved. Privacy Policy