free newsletter!

tell a friend!

contests

software
reviews
bestseller list
price survey
what's new
product support
search

educational tools
ask a scientist
math worksheets
vocabulary builders
hangman
iPhone/iPad apps
logic games
brain food

educational insights

feature articles

marketplace
iPhone/iPad apps
reading corner
movie corner

SuperKids home
about SuperKids
advertise!
humor
links
help


* * *

Promotions




* * *



all reviews > > > 1st grade software
Jump Start First Grade

Knowledge Adventure

Ages 5 to 7
Rating Scale
5 = great, 1 = poor
Educational Value
4.6
Kid Appeal
4.0
Ease of Use
4.85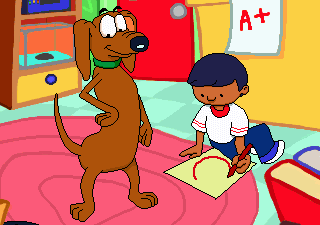 System Requirements

PC / Mac Price Survey

Product Support

Jump Start First Grade is a comprehensive program that integrates basic 1st-Grade curriculum into amusing, age-appropriate activities.

Frankie, the Jump Start Mascot, leads the user on a tour of an interactive school, where learning and fun occur in tandem. The first stop on the tour is the 1st-Grade classroom. Here Mrs. Flores teaches the early fundamentals in the most creative of ways, and students uncover delightful surprises with every click. Activities abound, and each successfully completed attempt wins points which can eventually be redeemed for 'milk cap' (remember POGS?) rewards.

Students visit the Jump Start 'Reading is Fun-damental' Library, which includes eight original storybooks with over 200 pages and illustrations, tackle the 'Tick Tock Game', where hours and minutes correlate to movement on a gameboard, or appreciate 'Music in the Mouse Hole' which features a note-able mouse orchestra. Also included in this room are a simple paint program, and a very average concentration game.

Venturing out of the classroom, 1st graders hit the Lunchroom, the domain of portly Ms. Pickles. Here they flex their math muscles using appropriate coins to purchase food from the vending machines, identifying fractions as they serve ravenous students in the food line, and practicing addition skills as they check out students on the virtual cash register. In the Kitchen they become food preparers, carefully adding ingredients to the baking machine to create culinary delicacies or studiously reading and filling pizza orders.

On the Playground kids uncover Frankie's buried bones with the 'detect-o-matic', or test their knowledge and skill in math marbles and milk caps.

Other program highlights include two field trip locations, and seven sing and learn songs.

Jump Start 1st Grade addresses: reading, vowel sounds, story comprehension, telling time, addition and subtraction, simple fractions, counting money, units of measure, arts and creativity, music composition, science, ecology and geography. Math activities, in particular those involving fractions and units of measure, do an excellent job of illustrating and teaching the concepts.

Students' progress is individually tracked in the Progress Report on Mrs. Flores' desk. It shows success rate for each educational topic and also serves as a direct link to modules, games or puzzles that include skills used in that area.

Although three levels of play exist in many of the modules, the program's Adaptive Learning Technology allows it to monitor each user's progress and adjust itself accordingly.

There are plenty of cute ideas and unique teaching approaches in this program, unfortunately some of them are poorly executed. Reward animations lack variety, repeating themselves over and over and quickly becoming tedious. Kids begin to lose interest in the game altogether. This is especially true in timed activities. Our testers didn't want to repeatedly watch kids gobble food off their plates--they wanted to move on to fill the next plate and win more points.

Our kid testers also complained that the 100 points needed to earn one milk cap was excessive. Ideally this delayed gratification should make students spend more time with the program, however many of our testers found the goal so distant it caused their motivation to wane.

Jump Start 1st Grade installs easily on Windows 95.

Best for... / Bottom-Line


This multi-subject learning program is best for early 1st or pre-1st graders who enjoy simple learning and skill building activities and who do not become easily bored with repetitive activities.
PC: Windows 3.1, 3.1.1 or Windows 95, 486Sx25 or faster cpu, 6 MB available hard drive space, 4 MB RAM (8 MB Windows 95), SVGA 256-color graphics adapter, Double-speed or faster CD-ROM, MPC-compatible sound card

Mac: System 7.1or higher, 68040 or Power PC processor, 1 MB hard drive space, 8 MB RAM, 256-color graphics display, Double-speed or faster CD-ROM

Reviewed on:

PowerMac 6400/200 with 32MB and 8XCD
Pentium166 with 24MB and 12XCD
return to top of page
---


Questions or comments regarding this site? webmaster@superkids.com
Copyright © 1998-2022 Knowledge Share LLC. All rights reserved. Privacy Policy