free newsletter!

tell a friend!

contests

software
reviews
bestseller list
price survey
what's new
product support
search

educational tools
ask a scientist
math worksheets
vocabulary builders
hangman
iPhone/iPad apps
logic games
brain food

educational insights

feature articles

marketplace
iPhone/iPad apps
reading corner
movie corner

SuperKids home
about SuperKids
advertise!
humor
links
help


* * *

Promotions




* * *



all reviews > > > 1st grade software
Big Thinkers! 1st Grade

Humongous Entertainment

Ages 5 to 8
Rating Scale
5 = great, 1 = poor
Educational Value
4.75
Kid Appeal
5.0
Ease of Use
4.75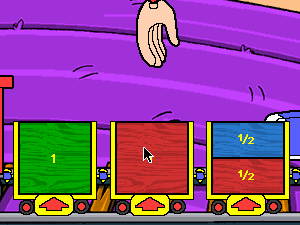 System Requirements

PC / Mac Price Survey

Product Support

Big Thinkers! 1st Grade features a wide range of entertaining activities that will challenge and stimulate students well beyond the 1st grade.

Ben and Becky Brightly, the program's teen hosts, lead children through their cozy home where diversions abound at every turn. In addition to the many amusing clickables that can be found in every nook and cranny, a multitude of subject-based activities prove that learning can be fun.

In fact, it's hard not to have fun with the enthusiastic Brightlys at the helm. This 'dynamic' duo actually transforms into the activities, becoming, for example, the globe on which oceans and continents are pinpointed, or the clock on which the hours and minutes are read.

Students work their way through each of six venues (four rooms, the garage and the backyard), receiving SmartStars for every successfully completed activity. Progress can be checked at any time on the Smart Chart, which lists the academic subjects addressed by the program, gives appropriate activities for each subject, and keeps track of the Smart Stars earned by each individual user. When the child has earned stars in each of the five major categories s/he qualifies to play the SuperStar of Smarts Challenge. This is a special culminating round in which the user can use accumulated stars to help beat the clock in a problem-solving activity. Winners of this challenge earn a printable certificate and the enthusiastic praise of their animated friends.

Activities encountered in Big Thinkers! 1st Grade focus on a broad range of academic areas: addition and subtraction, fractions, time, money, reading, phonics, spelling, environmental science, geography, life and physical sciences, problem solving, spatial perception, art creativity and music creativity. Many activities feature three levels of play, the highest of which allows the user practice skills at a level far above the average 1st grader.

Big Thinkers places a premium on making learning fun. For instance, in the reading section, a knock-off of "Mad-Libs", the child completes paragraphs by inserting nouns or verbs chosen from available lists. Not much brain-power is required, since basically any answer is correct, but the uproarious resultant prose illustrates for the child that reading can be fun, and becoming a proficient reader has diverse and far-reaching benefits.

Ben and Becky, with their zany antics and outrageous morphing abilities, never allow for a dull moment. Our kid testers gave this program high praise, with comments like: "Becky's my favorite, you can always see her hair zipping across the screen," and "I liked the garage sale, I bought a lava lamp with my money." Kids especially loved collecting the animated SmartStars, which boomerang and swan dive themselves into 'BrainBank' virtual caches.

Big Thinkers runs on Windows 95 and Macintosh without installation from the CD-ROM.

Our Windows 95 reviewers reported occasional error messages and associated automatic closing of the program. Even the most recent user information was saved in each of these instances, and the program was immediately restarted without difficulty.

Best for... / Bottom-Line


This program is fun for all, and contains plenty to stimulate both the struggling student, as a skill strengthening tool, and the successful 1st grader, for advanced learning and enjoyment.
PC: Windows 3.1 or higher, 33MHz or faster cpu, 8 MB RAM, SVGA 640x480, 256 color display, Double-speed or faster CD-ROM, Sound card

Mac: System 7.0 or higher, 25MHz or faster cpu, 8 MB RAM, 640x480, 256 color display, Double-speed or faster CD-ROM

Reviewed on:

PowerMac 6400/200 with 32MB and 8XCD
Pentium166 with 24MB and 12XCD
return to top of page
---


Questions or comments regarding this site? webmaster@superkids.com
Copyright © 1998-2023 Knowledge Share LLC. All rights reserved. Privacy Policy