free newsletter!

tell a friend!

contests

software
reviews
bestseller list
price survey
what's new
product support
search

educational tools
ask a scientist
math worksheets
vocabulary builders
hangman
iPhone/iPad apps
logic games
brain food

educational insights

feature articles

marketplace
iPhone/iPad apps
reading corner
movie corner

SuperKids home
about SuperKids
advertise!
humor
links
help


* * *

Promotions




* * *



all reviews >>> math software
NumberMaze Challenge

Great Wave Software

Ages 5 to 12
| | | |
| --- | --- | --- |
| Educational Value - 5.0 | Kid Appeal - 4.1 | Ease of Use - 5.0 |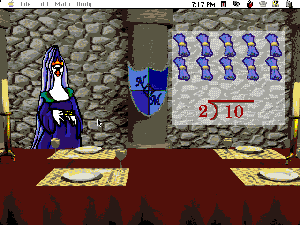 System Requirements

PC / Mac Price Survey

Product Support

NumberMaze Challenge is an enhanced version of NumberMaze, a program we reviewed -- and liked -- two years ago. This newer version preserves the essential concepts and methodology of its predecessor. Users move through a series of mazes by solving math facts equations and math word problems. Maze navigation utilizes a combination of 3-D graphics, and overhead map views.

NumberMaze Challenge offers 50 learning levels for each of the seven grades covered, over 350 in all. Users can progress from start to finish -- a very long task -- or can preselect the grade and subject material. Correct answers produce instantaneous positive feedback via an audio ding, and the removal of a maze obstacle. Incorrect answers produce prompts for change, followed by the offer of a hint if the error is repeated. The program is sophisticated enough that if it determines that a student is having difficulty with a specific problem level, it will offer the user a chance to either decrease the difficulty level, or start over.

The program captures user statistics in a printable report, and produces certificates of achievement for each section successfully completed.

NumberMaze Challenge remains an exceptionally strong educational program. In addition to offering practice in math facts covered in grades K-6, it now includes tutorials on new topics that make a reasonably good attempt to teach new concepts.

The program does an impressive job of tracking individual student's progress, and would be an excellent choice for in-school as well as at-home use.

Even with its 3-D graphics enhancements, character name customization option, and text-to-speech synthesis, NumberMaze Challenge is a non-glitzy program. The graphics are slow moving, the characters unfamiliar, and the voice synthesis mechanical sounding. Nonetheless, our kid reviewers universally liked NumberMaze Challenge. Why? "I like solving mazes," noted one second-grader, while a first-grader pointed to a stack of printed certificates with pride.

Best for... / Bottom-Line


NumberMaze Challenge is an excellent choice for the student who has an interest in learning math at any of the grade level's covered (K-6).
See the Summary Rating Table for comparisons with other Math software titles, and the Buyers Guide for current market prices of the PC and Mac versions.
PC: Windows 3.1; Win95, 486 or faster cpu, 2 MB hard drive space, 8 MB RAM, 256 color display, 2X or faster CD-ROM, Windows compatible sound device

Mac: System 7.0 and later, 68030, 68040, or PowerPC, 2 MB hard drive space, 8 MB RAM, 256 color display, 2X or faster CD-ROM

Reviewed on:

PowerMac 6400/200 with 32MB and 8XCD
Pentium166 with 24MB and 12XCD
return to top of page
---


Questions or comments regarding this site? webmaster@superkids.com
Copyright © 1998-2023 Knowledge Share LLC. All rights reserved. Privacy Policy