free newsletter!

tell a friend!

contests

software
reviews
bestseller list
price survey
what's new
product support
search

educational tools
ask a scientist
math worksheets
vocabulary builders
hangman
iPhone/iPad apps
logic games
brain food

educational insights

feature articles

marketplace
iPhone/iPad apps
reading corner
movie corner

SuperKids home
about SuperKids
advertise!
humor
links
help


* * *

Promotions




* * *



all reviews >>> math software
Carmen Sandiego Math Detective

Broderbund

Ages 8 to 14
| | | |
| --- | --- | --- |
| Educational Value - 4.7 | Kid Appeal - 4.9 | Ease of Use - 4.9 |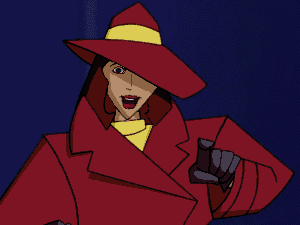 System Requirements

PC / Mac Price Survey

Product Support

Our favorite foe, Carmen Sandiego, has once again concocted a diabolical scheme that both challenges and entertains its participants. This time she stole twelve of the world's most treasured landmarks. With the help of her latest invention, a powerful shrinky-dink machine known as the "Quantum Crystallizer", Carmen has shrunk these wonders and secreted them in V.I.L.E. hideouts throughout the world. What she plans to do with the pocket-sized treasures, one can only imagine. Clearly, she must be stopped. To do so, the user must infiltrate V.I.L.E. headquarters and complete 12 missions, each of which unveils the location of a hidden wonder while involving the user in numerous critical math-skills.

Carmen Sandiego Math Detective features five basic activities with multiple variations and three levels of difficulty. Skills addressed include such essentials as addition, subtraction, multiplication and division, as well as beginning geometry, estimation, simplification, conversion (fractions, decimals and percents) and place value. Also included are hundreds of word problems, each requiring the creation of an appropriate equation as well as the solution. To succeed, students must analyze each problem and extract important variables, leading to better understanding of the concepts involved and word-problem techniques.

Math Detective also offers a training, or practice mode, which allows the student to work independently on skill-building activities, a "Strategy Guide" with problem-solving hints and tips and a Glossary for quick referencing of math terms.

Kids like the Carmen Sandiego titles with their creative spy-adventures and their cleverly disguised skill-building activities, and Math Detective is no exception. "Carmen Sandiego games are always good," and "I love Carmen Sandiego games," were the repeatedly expressed reactions of our kid testers.

For the most part the activities are enjoyable, even when tackled away from the adventure in the practice mode. The only reported exception was the Crimewave Sensor, an estimation activity, which students felt was boring and "a waste of time." Most admitted they used a calculator for quick answers rather than arriving at the answer through estimation.

Best for... / Bottom-Line


Carmen Sandiego Math Detective is best suited for kids who like to hunt for clues and solve mysteries. Filled with challenges to spark the emerging mathematical mind, this monumental Carmen Sandiego caper proves that with adequate training and the right equipment, math needn't be a mystery.
See the Summary Rating Table for comparisons with other Math software titles, and the Buyers Guide for current market prices of the PC and Mac versions.
PC: Windows95, 486/66 or faster cpu, 25 MB hard drive space, 16 MB RAM, 640x480 256 color display, 4X or faster CD-ROM, Windows compatible sound device

Mac: System 7.5.1 or higher, 100MHz Power PC or faster cpu, 20 MB hard drive space, 16 MB RAM, 640x480 256 color display, 4X or faster CD-ROM

Reviewed on:

PowerMac 6400/200 with 32MB and 8XCD
Pentium166 with 24MB and 12XCD
return to top of page
---


Questions or comments regarding this site? webmaster@superkids.com
Copyright © 1998-2023 Knowledge Share LLC. All rights reserved. Privacy Policy