free newsletter!

tell a friend!

contests

software
reviews
bestseller list
price survey
what's new
product support
search

educational tools
ask a scientist
math worksheets
vocabulary builders
hangman
iPhone/iPad apps
logic games
brain food

educational insights

feature articles

marketplace
iPhone/iPad apps
reading corner
movie corner

SuperKids home
about SuperKids
advertise!
humor
links
help


* * *

Promotions




* * *



all reviews > > > kid security software
Net Nanny

Net Nanny Software International Inc.

All ages
Rating Scale
5 = great, 1 = poor
Effectiveness
3.0
Breadth
5.0
Ease of Use
2.5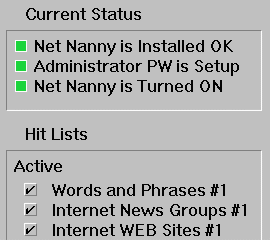 System Requirements

PC / Mac Price Survey

Product Support

Parents and children are using the Internet more each day, and benefiting greatly from the astonishing amount of information it offers. There is practically no question that a Web search canít answer, and very little data that it canít retrieve. Unfortunately, however, the Internet also frequently exposes kids to material that is inappropriate for them. Site and content filtering software is currently the best way to prevent unsupervised children from inadvertently intercepting unsuitable information.

Net Nanny is an application that attempts to help parents control what their children view while surfing the Web. It does this by matching text on Web Sites, Chat rooms, newsgroups, FTP Sites, and E-mail address to unacceptable word lists, and matching URLs (website addresses) to lists of forbidden sites. Parents can add their own unacceptable terms and URLs to the lists already compiled by the Net Nanny staff, and can download free periodic updates from the Net Nanny Website as inappropriate sites appear daily. In addition, Net Nanny can monitor virtually any other application on the computer, for forbidden words or URLs, including such common applications as Word, Notepad, Eudora, etc.

Net Nanny performed poorly in SuperKids' tests of its ability to block unacceptable Websites. Although it does block many, it allows their home pages to load before alerting the user that accessing the site is not allowed. Kids therefore get to view the hook intended to draw them further into the site, and although many pornographic sites do post warnings to minors, they donít hesitate to post suggestive teasers as well.

At times our testers could bypass the Net Nanny warning by fiddling with the dialog box and the forward and back browser buttons. Searches for both innocent and unsavory topics yielded obvious porn sites that were not blocked by Net Nanny, leading us to surmise that their unacceptable site list is far too brief. Although objectional newsgroups were admirably blocked, we frequently experienced no difficulty submitting personal information (names, phone numbers, etc.) to sites, even though this information had been previously added to our forbidden word lists.

A log keeps track of events in which Net Nanny is triggered. It lists the event number, the date and time, and the reason that the attempted action was prevented (i.e., inclusion of the word "sex"), and -- for sites that are blocked -- the site URL.

Installing Net Nanny is relatively simple. After installation, the user is prompted to restart the computer, open Net Nanny, and enter an Administrator password. This accomplished, the set up process begins to fall apart. Users of Windows 98 must add "Explorer.exe" to the list of browsers affected by the program, a task that, although not difficult shows a lack of commitment to maintianing / perfecting the product before releasing it to the public.

Although the program allows for multiple users, our testers were unable to determine how to differentiate between users. Furthermore, there appears to be no way to tighten or loosen the restrictions placed on the userís browser based on age and/or Internet requirements. In other words, the program performs identically for adult, teen or young child users.

Downloads of updates must be manually entered into the Net Nanny folder using a fairly involved, multi-step process that is may not be intuitive to the average computer user. Password prompts do not occur with reliable consistency, and overriding the system by repeatedly closing and/or moving the Net Nanny warning box can be accomplished all too easily.

Best for... / Bottom-Line


Net Nanny needs work. Based on our experiences with the product, SuperKids does not recommend it at this time.
PC: Windows 3.1, Windows95/98, 486 or faster cpu, 4 MB hard drive space, 8 MB RAM

Reviewed on:

Pentium450 with 128MB and 40XCD
return to top of page
---


Questions or comments regarding this site? webmaster@superkids.com
Copyright © 1998-2023 Knowledge Share LLC. All rights reserved. Privacy Policy